Seismic Survey and Offshore Drilling are not compatible with our coast.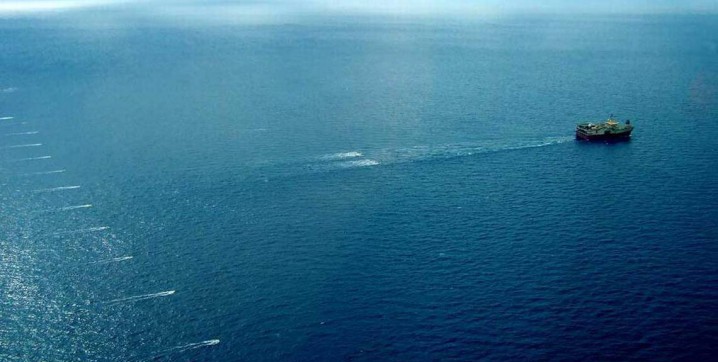 The North Carolina Coastal Federation opposes seismic surveys because of its negative effects on fish and marine mammals as well as the potential barriers the activity poses to access for recreational and commercial fisheries. Seismic surveys are the first step in planning where offshore oil and gas exploration will occur. The ship pictured above is towing an airgun array used to produce seismic waves that propagate to the seafloor to locate oil and gas resources. If permitted, seismic surveys continuously generate airgun blasts throughout the survey area for months at a time. These surveys are known to disrupt behavior patterns for marine mammals, sea turtles, fish, and can decimate zooplankton populations, the base of the marine food web. Additionally, the destructive processes associated with offshore drilling pose too great a risk to this state's coastal economy and environment. The waters off North Carolina should be off-limits to offshore oil and gas exploration and development.
Questions? Contact Coastal Advocate Kerri Allen at kerria@nccoast.org or 252-393-8185. More information is also available at dontdrillnc.org.
COAST Anti-Drilling Act: Support Needed
May 26, 2021 The Clean Ocean And Safe Tourism (COAST) Anti-Drilling Act was introduced in the House (H.R. 3116) and Senate (S.1851). The bill would amend the Outer Continental Shelf Lands Act to permanently prohibit the exploration, development, and production of oil or natural gas from occurring on the Outer Continental Shelf in the North Atlantic, Mid-Atlantic, South Atlantic, and Straits of Florida planning areas. Contact your Congressional members of the Senate and House of Representatives and ask them to support the COAST Anti-Drilling Act to permanently protect our coast from the negative impacts of offshore drilling.
Secretary of Interior to Pause New Oil and Gas Leases on Public Lands
January 27, 2021 On Jan. 27, President Biden signed an Executive Order that directs the Secretary of the Interior to pause new oil and natural gas leases on public lands and offshore waters to the extent possible.  This action represents a significant step towards the permanent protection of our coast from the impacts of offshore oil and gas exploration and drilling.  The accompanying Fact Sheet summarizes the details included in the EO, which focuses on actions that can be taken to address climate change. Additionally, the EO directs the Secretary to launch a rigorous review of all existing leasing and permitting practices related to fossil fuel development on public lands and waters, and identify steps that can be taken to double renewable energy production from offshore wind by 2030.  Currently, Kitty Hawk Offshore is the only wind energy area in development off the coast of North Carolina.
Offshore Drilling Moratorium Expanded to NC
October 2, 2020 President Trump signed a Presidential Memorandum on Sep. 25 that expanded an offshore drilling moratorium to the waters off the coast of North Carolina. The memorandum to the Department of Interior states, "this withdrawal prevents consideration of this area for any leasing for the purposes of exploration, development, or production during the 10-year period beginning on July 1, 2022 and ending on June 30, 2032."  Unfortunately, the memorandum only references the portion of the planning area that lies south of the northern administrative boundary line of North Carolina, and not the entire Mid-Atlantic Planning Area or the entire Atlantic Coast. Therefore, continued grassroots efforts to contact local, state, and federal representatives with the request to expand the moratorium for the entire Atlantic Coast are encouraged as the acute and chronic impacts of offshore drilling do not respect state lines. The federation will also continue to monitor the status of these moratoriums as President Trump stated that he, "can change things very easily," immediately after announcing the decision to add North Carolina to the moratorium during a campaign rally.
Offshore Drilling Moratorium Requested for NC
September 22, 2020 Senator Tillis issued a news release on Monday, September 21 announcing that "North Carolina will be included in a Presidential Memorandum withdrawing new leasing for offshore oil and gas developments for the next 12 years.  Under the order leases for the purposes of offshore development are prohibited between July 1, 2022, and June 30, 2032."  This followed an earlier request Governor Cooper sent in a letter Sept. 15 that urged President Trump and his administration to include North Carolina in the recently announced moratorium.  Governor Cooper released a statement on Sep. 22 that he will "stay vigilant and ready to resume the fight in the event the federal government makes any move toward offshore drilling," while waiting for confirmation that the President will extend the offshore drilling moratorium to North Carolina's waters.
NC Absent from Expanded Offshore Drilling Moratorium
September 15, 2020 Just after Labor Day, President Trump extended a moratorium on oil and gas drilling in a portion of the Central and most of the Eastern Gulf of Mexico, and expanded the decade-long ban to planning areas off the coast of Florida, Georgia and South Carolina. During his remarks, the President extended "congratulations to Florida, Georgia, South Carolina, and frankly North Carolina."  Unfortunately, North Carolina was not included in the expanded moratorium so frankly, there is no reason to celebrate. If anything, the recent order should cause concern since North Carolina remains under consideration for proposed offshore oil and gas lease sales. Offshore drilling and seismic surveying for oil and gas exploration would not be compatible with our vibrant coastal environment and economy. That's the sentiment from 100% of the state's oceanfront municipalities. The North Carolina coast has been off-limits to offshore drilling for over 30 years, help us keep it that way by contacting your local, state, and federal representatives to request they call for expansion of the recently announced moratorium to include North Carolina and the entire Atlantic Coast.
100% of oceanfront municipalities oppose offshore drilling and seismic testing
March 11, 2020 100% of oceanfront municipalities in North Carolina have now passed resolutions opposing offshore oil drilling and seismic testing. The Town of Indian Beach in Carteret County adopted such a resolution during the March meeting of the Board of Commissioners, joining a total of 44 other towns, cities, and counties throughout the state. Even inland communities, some located as far west as Asheville, have joined in this fight that affects all North Carolinians.
History of the Issue:
2021 Secretary of Interior Pauses New Oil and Gas Leases on Public Lands 2020 Offshore Drilling Moratorium Expanded to NC Legal Challenge of Proposed Seismic Surveys Dismissed After Incidental Harassment Authorizations (IHAs) Expire 2018 Environmental groups sue to stop seismic surveys in Atlantic Ocean National Marine Fisheries Service (NMFS) granted incidental harassment authorizations to five companies that submitted applications to conduct seismic surveys Bureau of Ocean Energy Management (BOEM) releases the Draft Proposed 2019-2024 National Outer Continental Shelf Oil and Gas Leasing Program and proposed leases in nearly all U.S. waters 2017 BOEM releases public notice for comment on new five-year leasing program NMFS releases public notice for comment on seismic surveys after companies successfully challenged the denials of six pending permits BOEM formally denies six pending permits for conducting seismic surveys off the Atlantic coast 2016 BOEM releases Final Environmental Impact Statement and removed Mid- and South Atlantic Planning Areas from 2017-2022 Program 2015 BOEM releases Draft Proposed 2017-2022 National Outer Continental Shelf Oil and Gas Leasing Program and proposed leases in Mid- and South Atlantic Planning Areas