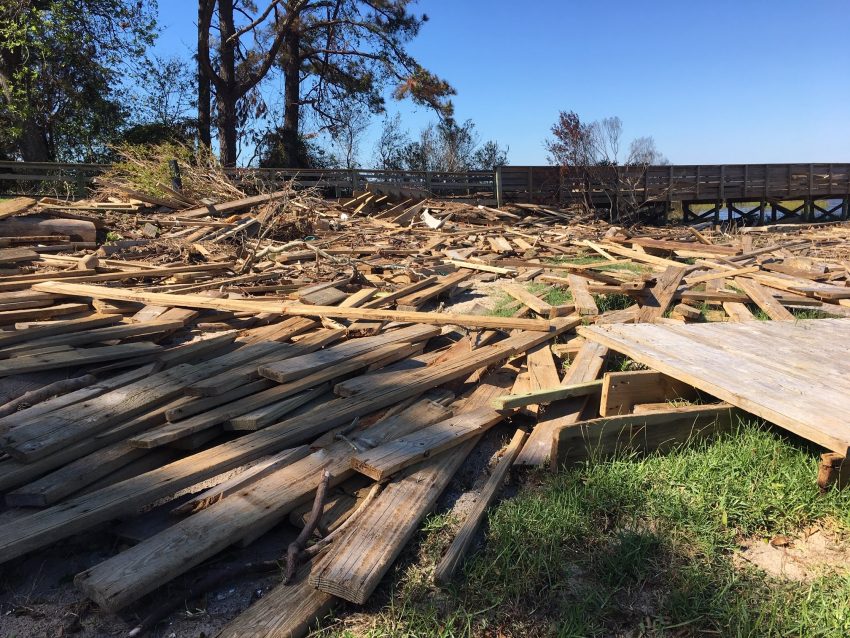 The Division of Coastal Management in partnership with the Coastal Federation has received $2M funding through the Natural Resources Conservation Service's Emergency Watershed Program to clean up marine debris and abandoned and derelict vessels that still litter the coast from Hurricane Florence.
The National Fish and Wildlife Foundation has awarded the Coastal Federation $650,000 to cleanup marine debris and abandoned and derelict vessels from Hurricane Michael and Florence.
Central Region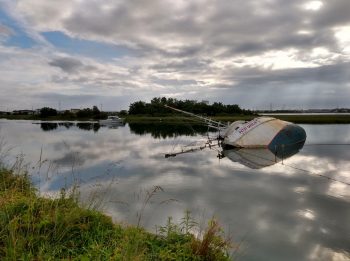 In 2020, the Coastal Federation in partnership with the Division of Coastal Management (DCM) has received funding through the Natural Resources Conservation Service's (NRCS) Emergency Watershed Program to clean up marine debris from Hurricane Florence that still litters North Carolina coastal habitats. This funding will also address abandoned and derelict vessels littering the coast. The central region will focus on cleaning up debris from Rachel Carson Reserve, Hammocks Beach State Park, and dredge spoil islands in Onslow and Carteret County. The Coastal Federation has also received funding from National Fish and Wildlife Foundation to remove marine debris and abandoned and derelict vessels from Hurricane Michael and Hurricane Florence. Areas that will be focused on are sensitive habitats, remote shorelines, tidal marshes and public land in Carteret, Craven, Onslow, Beaufort and Pamlico counties. Cleanup efforts will begin in the spring of 2020.
In 2019, The Federation's central region contracted cleanup efforts to remove debris from Hurricane Florence in Carteret and Onslow counties. The project focused on consumer debris, and heavy wooden debris from damaged docks and piers that had washed up after Florence. From February to June, a crew of fishermen and women and locals worked tirelessly to clean up 21 miles of marsh and dredge spoil islands along the intracoastal waterway near Swansboro from marker 34-55. A total of 125.2 tons of consumer and wooden debris from Hurricane Florence was picked up, along with three abandoned and derelict vessels. In order to maintain habitat quality and not cause disturbance to the surrounding marsh vegetation, the crew members hauled out wood by hand to piles that the contractor could reach with heavy equipment from the waterway.
Southeast Region
The National Oceanographic Atmospheric Administration (NOAA) Marine Debris Program is currently funding cleanup efforts in the Southeast region. This funding supports the extension of the ongoing debris removal to include Pender, New Hanover and Brunswick Counties. This will provide a case study on large-scale marine debris removal for distribution by NOAA for other regions. These cleanup efforts will support the development of recommendations for state-wide standards and model local ordinances for more storm resilient marine construction. They will also increase education and outreach on marine debris in the estuarine environment. A four-person crew of fishers from Sneads Ferry began collecting debris in late November 2019, and as of the end of March 2020, 90 tons of debris have been collected. An additional 1,000 lbs. of debris were collected by 64 volunteers during clean up events at the Morris Landing Clean Water Preserve on Stump Sound. The crew is averaging about 1 ton of debris per day. They have worked from Surf City Bridge to the end of Topsail Beach, Topsail Island. This includes about 9 square miles of water, marsh, tidal creeks and dredge spoil islands. Clean up efforts will continue down south to Masonboro Sound and a portion of the lower Cape Fear River estuary.
For future preparedness, the Federation will also work with NOAA to develop best management practices for protecting important natural resources and work with local municipalities to create model building codes and construction specifications to ensure docks and piers are built stronger to better withstand the forces of future hurricanes.
Click here to read more about the project from the crew's perspective.
Additionally, under the General Assembly funding in 2019, a 4-person crew worked from April to August. The crew covered 22 miles of shoreline including islands, embayments and creeks from the lower New River to Topsail Sound and removed a total of 75 tons of debris. This included the preliminary clean-up of the shoreline of the Permuda Island Coastal Reserve. The majority of the clean-up occurred in Onslow County, with some occurring in Pender County. Approximately 3-5 tons of this debris was removed from within the Permuda Island Coastal Reserve. The crew collected all the debris by hand, and used a 24' Carolina Skiff to haul the debris to stockpile and collection sites.