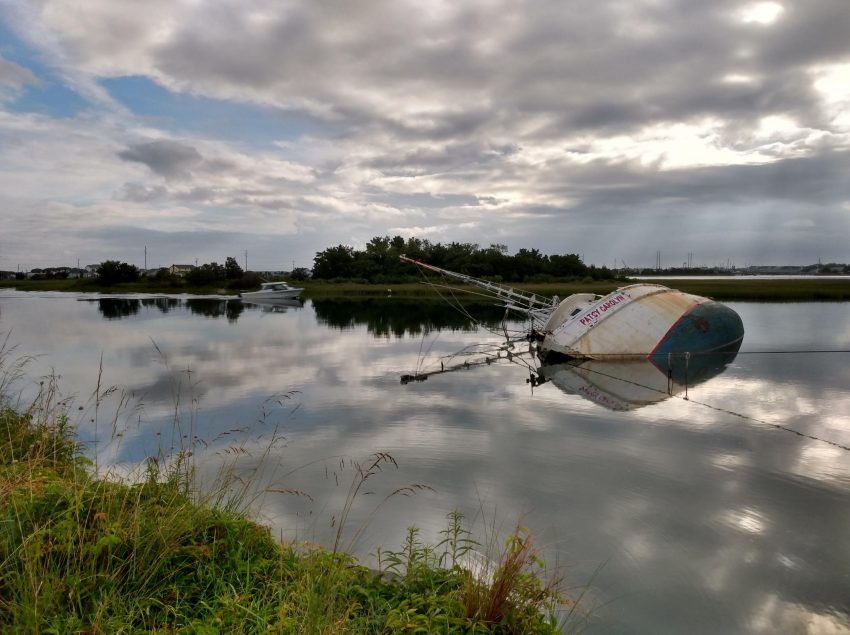 Almost 40 Abandoned and Derelict Vessels (ADV) Removed So Far…!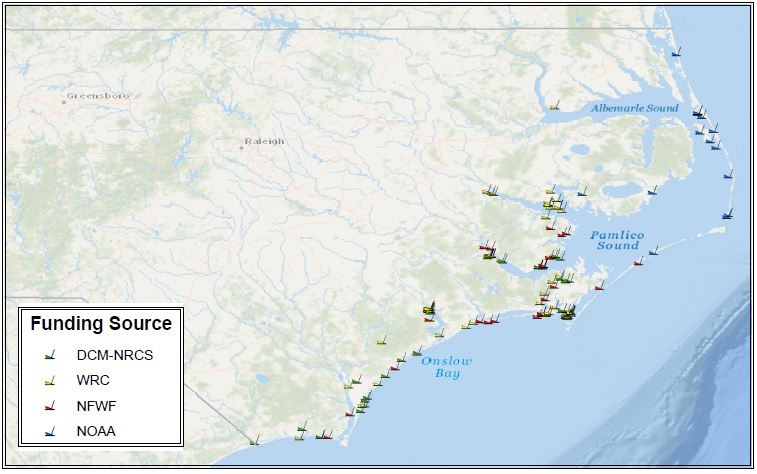 N.C. Wildlife Resource Commission Empowered and Funded to Take Action on ADVs
The N.C. Wildlife Resources Commission (WRC) was appropriated $1 million from the North Carolina General Assembly to address and remove abandoned and derelict vessels across the North Carolina coast. In partnership with the Division of Coastal Management and the federation, a full scale collaborative effort is being conducted to address the removal of these vessels. The federation is partnering with WRC to engage legislative staff and members in promoting a permanent abandoned and derelict vessel program. Legislative language was passed in early July 2020 allowing WRC the authority to inspect, investigate, and remove abandoned and derelict vessels under Section 2.1 of S.L 2019-224.
Vessels that have been identified as abandoned or derelict will be added to a state database and prioritized for removal. WRC maintains a map of ADVs and provides an email to report ADVs: adv@ncwildlife.org.
---
Current Projects
---
Central and Southern Regions Removing Sailboats, Trawlers, Motor Yachts and Skiffs
Natural Resources Conservation Service
The North Carolina Coastal Federation (federation) has partnered with the N.C. Division of Coastal Management (DCM) to secure over $2 million dollars to expand previous hurricane debris cleanup efforts, and address the removal of abandoned and derelict vessels in coastal waters. The Division of Coastal Management received funding from the Emergency Watershed Program run by the Natural Resources Conservation Service (NRCS). This federal funding is matched with an additional $250,000 appropriated by the N.C. General Assembly to DCM. Vessel removals began in the central and southeast coast of N.C in late March 2021. AS of July 31, 19 of the 24 targeted vessels have been removed. The remaining 5 vessels will be removed by the end of August.
National Fish and Wildlife Foundation
Additionally, the federation has received a grant from the National Fish and Wildlife Foundation of $650,000 to clean up marine debris and abandoned and derelict vessels from Hurricane Michael and Florence along the southern and central coasts. This grant aims to remove over 40 vessels from Brunswick, New Hanover, Pender, Onslow, Carteret, Craven, Pamlico and Beaufort counties. Vessel removals under this grant began in late March 2021. As of the end of July 2021, 19 vessels have been removed so far.
NOAA Marine Debris Program Vessel Removal in the Northeast Region
The North Carolina Coastal Federation will be removing large scale marine debris in the Albemarle-Pamlico Sound with a grant award from the National Ocean and Atmospheric Administration's (NOAA) Marine Debris Program. The federation will coordinate the project in partnership with Dare County and the N.C. Division of Coastal Management. Vessel removals are projected to begin in the fall 2021 in the northeast region.
The major goal of the NOAA grant funded project is to remove at least 20 abandoned and derelict vessels that currently harm important habitat such as oyster reef, submerged aquatic vegetation, shallow subtidal and coastal wetlands in the Albemarle-Pamlico estuary. Division of Coastal Management staff identified numerous abandoned and derelict vessels and other large-scale marine debris that negatively impact different habitats within Currituck Banks and Kitty Hawk Woods component of the N.C. Coastal Reserve.
---
Resources
---