Volunteer Restoration Event at Morris Landing
September 16, 2022
@
9:00 am
–
2:00 pm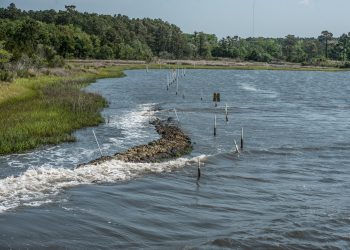 Volunteer with us at Morris Landing Clean Water Preserve on Friday, September 16th from 9 a.m. – 2 p.m. to celebrate National Estuaries Week, International Coastal Cleanup and We The Water.
The oyster reefs and wetlands located at the Preserve, along with other Estuarine habitats, provide critical fish nursery areas, buffers from storms and improve water quality. Our estuaries are also tremendous economic resources, providing jobs to coastal communities. Beyond these measurable benefits, estuaries are at the heart of so many of our coastal communities.
Volunteers will work from 9 a.m. – 12 p.m. removing marine debris from the shoreline, roadside and oyster shell pile as well as monitoring and maintaining the living shorelines. Volunteers will help organize supplies back into the trailer before being served lunch from 12 – 1 p.m. The paddlers from We The Water will then join us from 1 p.m. – 2p.m. for a photo op and an opportunity for volunteers to paddle in an outrigger canoe.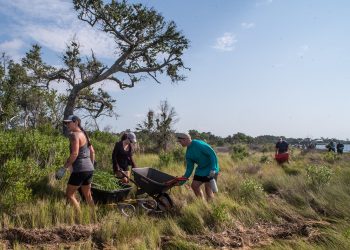 No special skills or knowledge are required. You will receive the basic training needed. Volunteers should bring a reusable water bottle, hat and sunglasses. Please dress for the weather in clothes that are comfortable and that you don't mind getting dirty. Close toed shoes required. Gloves, boots, trash pickers and trash bags will all be provided. Children under the age of 18 must have a parent or legal guardian with them.
All project supplies and equipment as well as snacks and refreshments will be provided. A portable toilet and parking available on site.
Project made possible through support from our members, National Fish and Wildlife Foundation, North Carolina Land and Water Fund, NOAA Marine Debris, The Orton Foundation and through state appropriated funding from NC's Department of Environmental Quality.
The North Carolina Coastal Federation, Inc. does not discriminate on the basis of race, color, national origin, sex, age or disability in its programs or activities.