All events for Touch Tank Tuesday Live!
August 2020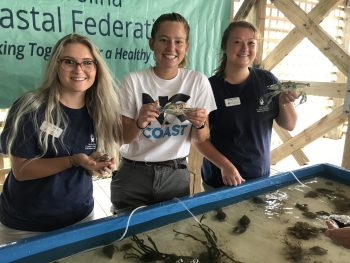 The North Carolina Coastal Federation's most popular educational program in the southeast, Touch Tank Tuesday, will take place virtually during the summer of 2020. Beginning June 2nd, local residents and visitors from near and far can join us for this interactive, free program. Each week, you can learn more about North Carolina's coastal habitats, get close up and personal with some of our coastal critters, and find additional fun activities and opportunities to help protect our beautiful coast. From purple…
Find out more »
June 2020
The North Carolina Coastal Federation, Inc. does not discriminate on the basis of race, color, national origin, sex, age or disability in its programs or activities.