Shoreline Planting: Hammocks Beach State Park
May 31
@
10:00 am
–
12:00 pm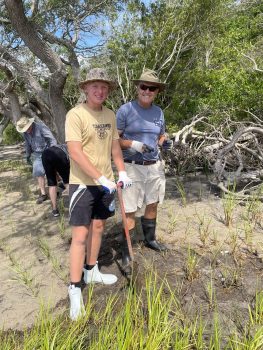 The North Carolina Coastal Federation and Hammocks Beach State Park invite volunteers to help protect shoreline, one plant at a time. Volunteers will plant salt marsh grasses to help protect the soundside shore from erosion and create habitat for marine life.
Volunteers should wear weather-appropriate clothes that can get wet and dirty. Closed-toe shoes that cover the foot and can get wet and muddy are required. Volunteers should also bring a water bottle, hat, sunglasses and any medications they may need. Snacks, water, sunscreen, bug spray, gloves and planting tools will be provided.

This marsh grass planting event is part of a living shoreline project. For more information on living shorelines check out the Living Shorelines Academy. The Living Shorelines Academy is an online exchange of information that encourages the use of environmentally friendly erosion control practices to protect valuable waterfront property.
This event is limited to 30 people and registration is required.
The North Carolina Coastal Federation, Inc. does not discriminate on the basis of race, color, national origin, sex, age or disability in its programs or activities.