Shoreline Monitoring at Morris Landing
September 20 @ 9:00 am

-

12:00 pm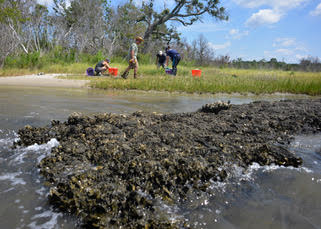 This year, the North Carolina Coastal Federation will be celebrating National Estuaries Week by monitoring and maintaining the oyster and salt marsh restoration projects at the Morris Landing Clean Water Preserve.
These oyster reefs and wetlands, along with other Estuarine habitats, provide critical fish nursery areas, buffers from storms and improve water quality. Our estuaries are also tremendous economic resources, providing jobs to coastal communities. Beyond these measurable benefits, estuaries are at the heart of so many of our coastal communities.
No special skills or knowledge are required. You will receive the basic training needed. Saltmarsh monitoring will include estimating how much and what kind of vegetation is growing in the restored area and using survey equipment to measure the shoreline profile changes. Oyster monitoring will include opening up shell bags from the reef, measuring and counting oysters and identifying other organisms. This monitoring enables us to evaluate the restoration projects' progress and report these findings to the permitting agencies and funding sources.
All project supplies and equipment, as well as snacks and refreshments, will be provided. There are no restrooms at the site, but a porta-potty will be available. This event is suitable for ages 12 and up.
Volunteer Information:
We will meet at Morris Landing on Stump Sound. Volunteers can park on the side of the road.
We will be working along the shoreline in varying conditions including wet, dry, sandy and muddy areas.
We are expecting hot and humid temperatures, so please dress appropriately. Expect to get wet and dirty.
Volunteers are asked to:
Wear closed-toe shoes, sneakers are best. Please, NO Tevas, Crocs, Chacos or flip-flops. Boots will be available if you do not have appropriate footwear
Wear clothes that can get wet and muddy. Dress for the weather.
Bring a reusable water bottle, hat, and sunglasses. NO single-use plastic bottles please.
Bring any medication that you are currently taking.
Related Events
The North Carolina Coastal Federation, Inc. does not discriminate on the basis of race, color, national origin, sex, age or disability in its programs or activities.