Salt Marsh Planting at Morris Landing
July 19 @ 9:00 am

-

12:00 pm
The North Carolina Coastal Federation invites the public to participate in efforts to restore salt marsh along the shoreline of Stump Sound at the Morris Landing Clean Water Preserve. Volunteers will plant plugs of salt marsh grass to supplement ongoing salt marsh and oyster habitat restoration efforts through the installation of living shorelines along Stump Sound.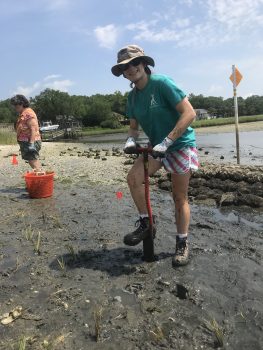 Volunteers will use hand tools to install the plants along the shoreline during low tide. Federation staff will also pull seine nets, and conduct educational activities during the event. This event is suitable for all ages and a variety of tasks will be available to accommodate a range of physical abilities. We will be working along the shoreline in varying conditions including wet, dry, sandy and muddy areas.
The federation worked with partners to purchase Morris Landing, and to implement projects to restore salt marsh and oyster habitat, enhance public access and recreation, expand shellfish enhancement activities in the area and protect the waters of Stump Sound in Onslow County.
All project supplies and equipment, as well as snacks and refreshments, will be provided. Please join us and bring your friends, family and co-workers for all or part of the event to participate in a fun and rewarding activity.
Volunteers will meet staff at the base of the concrete pier at Morris Landing on Stump Sound and can park on the side of the road
What to bring/wear:
Wear boots or closed toed shoes that can get wet and muddy (DO NOT wear tevas, sandals, crocs, flip flops)
Wear clothes that can get dirty
Dress for the weather and wear/bring sun protection
Bring a water bottle, hat & sunglasses
Bring any medications that you normally take.
If you don't have boots or shoes that can get or muddy, we will have some extra boots you can use
Related Events
The North Carolina Coastal Federation, Inc. does not discriminate on the basis of race, color, national origin, sex, age or disability in its programs or activities.