Northeast Coast Cleanup
January 21
@
9:00 am
–
11:30 am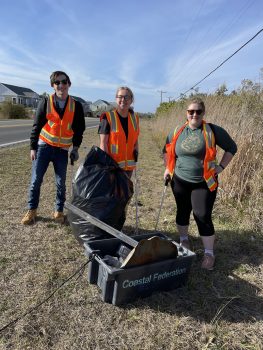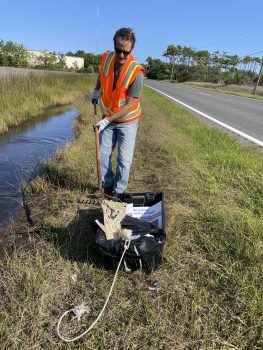 Join the federation on Saturday, Jan. 21 from 9 a.m. to 11:30 a.m. for a debris cleanup of the estuarine shoreline and roadsides to jump start marine debris removal efforts this year.
Participants will have two locations to choose from to check in with staff and pick up supplies – Wanchese and Rodanthe:
Wanchese Check In & Supplies Pick Up
2038 NC – 345
Wanchese, NC 27981
Rodanthe Check In & Supplies Pick Up
Rodanthe-Waves-Salvo Community Building
23646 NC – 12
Waves, NC 27982
We will disperse and work in small groups while conducting the cleanup. Remember to bring water, a snack and any medications you may need. Please dress appropriately for the weather as this entire event will take place outdoors. Sturdy shoes for walking in wet areas are also recommended, especially boots. Trash bags, gloves and other clean up materials will be provided.
One of the North Carolina Coastal Federation's primary initiatives is to reduce the amount of marine debris littering coastal shorelines and waterways. We've worked with project partners to develop a coastwide Action Plan that puts an emphasis on carrying out tangible activities that we're continuing to make progress with.
We need your help putting this plan into action to prevent and remove marine debris and inspire community involvement. Hope you can join us! If you plan to attend, please register below at your preferred area so we can plan supplies accordingly.
This year the Coastal Federation is coordinating crews to locate and retrieve lost fishing gear from the central and northeast coasts. This project is funded by the N.C. Commercial Fishing Resource Fund Grant Program and is intended to improve habitat and water quality, as well as support coastal economies. Additionally, the Federation will be removing large scale marine debris on the central and southeast coasts with funding from the NC General Assembly.
For more information on how the Federation plans to tackle marine debris:
Registration
Wanchese Check In Registration
Rodanthe Check In Registration
The North Carolina Coastal Federation, Inc. does not discriminate on the basis of race, color, national origin, sex, age or disability in its programs or activities.