NC Oyster Week: Volunteer Event at Morris Landing
October 10
@
9:00 am
–
12:00 pm
Volunteer with us at Morris Landing Clean Water Preserve on Monday, October 10th from 9 a.m. – 12 p.m. to kick off NC Oyster Week while celebrating Indigenous Peoples' Day.
Our native eastern oyster (Crassostrea virginica) is one of the most important species in our estuaries. They filter water, provide food for humans and create reefs that build homes for more fish. These environmental benefits, in turn, support jobs and provide economic opportunities for coastal communities. Oysters once abounded in the estuaries along the eastern coast of the U.S. But overharvesting, pollution and disease have taken a devastating toll reducing populations by over 80% in the last 100 years.
Archaeologists have now found that the ancient harvesting practices of Native Americans likely promoted the health of oyster reefs for thousands of years before Europeans arrived. The results of these findings could help inform today's efforts to restore habitats and sustainably harvest oysters.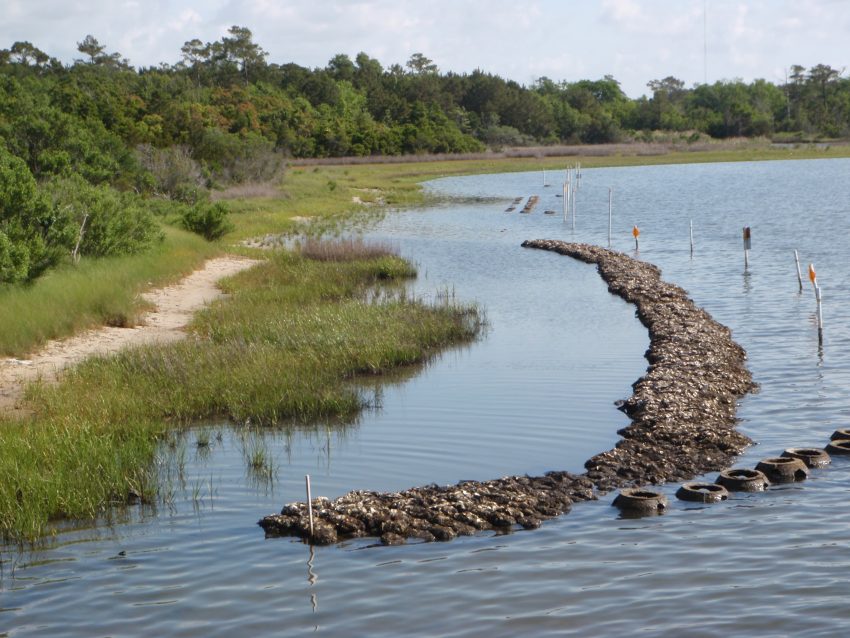 Join us for this special event to dive deeper into the history and culture of local native tribes and their relationship with oysters while actively working to protect and restore stump sound oyster populations. Volunteers will work to remove harmful and problematic marine debris from the shoreline, roadside and oyster shell recycling pile. Volunteers will also monitor and maintain the living shorelines to protect future oyster populations and promote growth of new oysters.
No special skills or knowledge are required. You will receive the basic training needed. Volunteers should bring a reusable water bottle, hat and sunglasses. Please dress for the weather in clothes that are comfortable and that you don't mind getting dirty. Close toed shoes required. Gloves, boots, trash pickers and trash bags will all be provided. Children under the age of 18 must have a parent or legal guardian with them.
All project supplies and equipment as well as snacks and refreshments will be provided. A portable toilet and parking available on site.
Project made possible through support from our members, National Fish and Wildlife Foundation, North Carolina Land and Water Fund, NOAA Marine Debris, The Orton Foundation and through state appropriated funding from NC's General Assembly.
The North Carolina Coastal Federation, Inc. does not discriminate on the basis of race, color, national origin, sex, age or disability in its programs or activities.