Living Shoreline Workday at Starkey Creek
August 21 @ 10:00 am

-

12:00 pm
The North Carolina Coastal Federation invites volunteers to assist in building a living shoreline using bags of recycled oyster shells. The new reef will protect the shore from erosion and create habitat for hundreds of marine creatures including oysters, which help filter and clean the water.
With the help of federation staff, volunteers will pass bags of recycled oyster shells to be placed in shallow water along the eroding shoreline. Please be aware that this work can be challenging and physically demanding, especially in warmer temperatures. As such, this event is most suited for adults and children over the age of 12. Volunteers will meet at 393 Norris Landing Road at 10 a.m.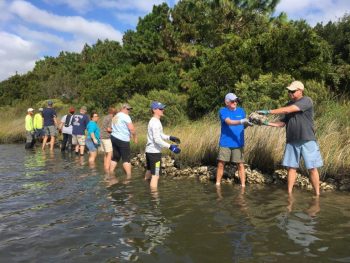 In partnership with the National Oceanic and Atmospheric Administration, we will be building the living shoreline in front of a private property in Starkey Creek. This partnership allows individual homeowners to apply for assistance to build living shorelines and promote healthy waters all along our coast. The living shoreline, although adjacent to private property, is constructed in public trust waters, and will benefit the wildlife and water quality of Starkey Creek and the White Oak River.
Snacks, water, sunscreen and bug spray will be provided.
What to bring/wear:
– Wear boots or closed-toe shoes that can get wet and muddy (NO tevas, sandals, crocs, flip flops).
– Wear clothes that can get wet and dirty.
– Dress for the weather and wear/bring sun protection.
– Bring a water bottle, hat and sunglasses.
– Bring any medications that you normally take.
For more information on living shorelines, check out the Living Shorelines Academy. The Living Shorelines Academy is an online exchange of information that encourages the use of environmentally friendly living shoreline erosion control practices to protect valuable waterfront property.
Related Events
The North Carolina Coastal Federation, Inc. does not discriminate on the basis of race, color, national origin, sex, age or disability in its programs or activities.