Lake Mattamuskeet Watershed Restoration Plan Virtual Public Meeting
April 15
@
6:30 pm
–
8:30 pm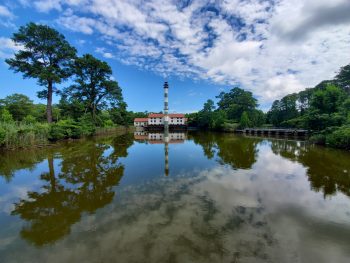 Join the federation and project partners for a virtual public meeting to discuss the implementation of the Lake Mattamuskeet Watershed Restoration Plan on April 15, 2021 from 6:30 p.m. – 8:30 p.m. The agenda for the public meeting includes an overview of the approved watershed plan, updates about ongoing monitoring efforts within the lake, and review of a watershed-scale model and conceptual engineering designs that could be implemented to restore the lake's water quality and reduce flooding throughout the watershed.
In 2017, Hyde County, N.C. Wildlife Resources Commission, and the U.S. Fish and Wildlife Service formed a partnership and contracted the North Carolina Coastal Federation to develop a plan to address poor water quality within Lake Mattamuskeet, as well as chronic and persistent flooding on the surrounding landscape. Funding received from the Clean Water Management Trust Fund, Office of State Budget and Management, and National Science Foundation is being used to implement several of the priority management actions identified within the watershed restoration plan that was officially approved by the N.C. Department of Environmental Quality on August 7, 2019.
For more information on the Lake Mattamuskeet Watershed Restoration Plan, CLICK HERE.
The North Carolina Coastal Federation, Inc. does not discriminate on the basis of race, color, national origin, sex, age or disability in its programs or activities.