Coastal Ambassador Training: 2019 Introduction
February 27 @ 5:30 pm

-

7:00 pm
Join us as we jump into 2019! The first Coastal Ambassador training will focus on engaging, training and updating new and current ambassadors with the planned outreach efforts for 2019.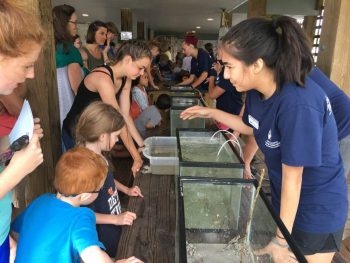 The Southeast Coastal Ambassadors are a special group of volunteers that help spread the word about the work of the Coastal Federation and engage the public in our projects. Ambassadors serve as representatives of the federation at festivals, programs and other outreach events. Benefits of being a Coastal Ambassador include monthly trainings, special field trips and recognition through Ambassador t-shirts and name tags.
Each month the federation holds a Coastal Ambassador training meeting that alternates monthly between a day field meeting and an evening program meeting. The program is designed to be fun and interactive, allowing volunteers to socialize with one another while learning more about the work of the federation and our coastal environment.
Ambassadors are required to attend at least five trainings per year and represent the federation at a minimum of three outreach events. Those who wish to join the Coastal Ambassadors group are required to attend an orientation training session held at 5:30 p.m. before the evening program meetings. This program is for people 16 years or older.
For more information about the Southeast Coastal Ambassador group or training meeting please contact Bonnie Mitchell, coastal outreach specialist, at bonniem@nccoast.org or 910-509-2838 ext. 204.
Related Events
The North Carolina Coastal Federation, Inc. does not discriminate on the basis of race, color, national origin, sex, age or disability in its programs or activities.