Anti-Offshore Drilling Rally for the BOEM Scoping Meeting
July 22 @ 3:00 pm

-

7:00 pm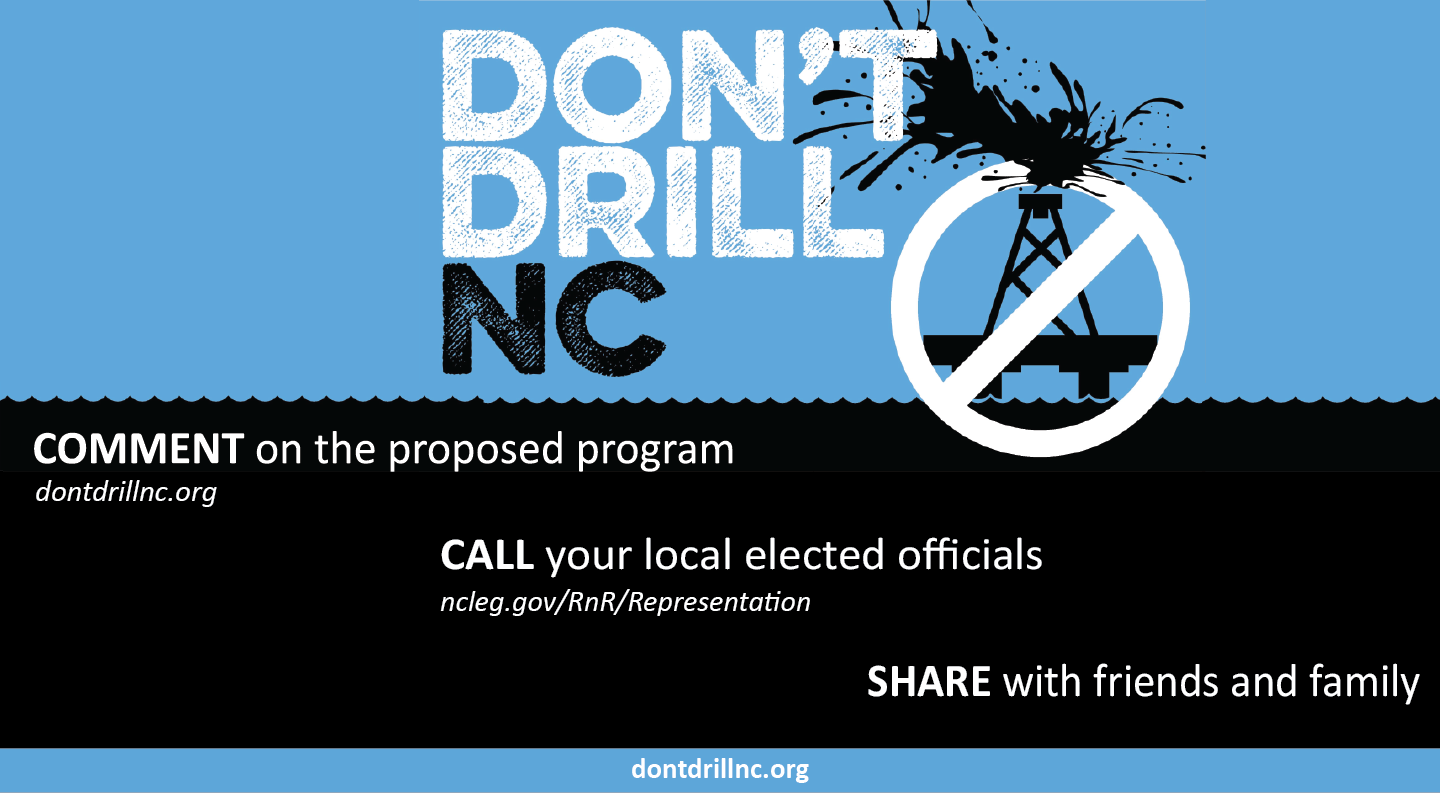 The administration may not have dropped the next 5-year plan — but we know that they're planning to drill off North Carolina. That's because the Bureau of Ocean Energy Management has booked Kill Devil Hills' Ramada Inn for July 22. Last time, they came the Outer Banks produced the largest turnout in history. This time, the stakes are even higher as we kick off the final public comment period on this critical issue — WE WILL NOT GET ANOTHER CHANCE — so we need every person who lives and loves this place to show up and protest. (Members of the DontDrillNC have booked the Comfort Inn next door; sign up for text alerts at www.dontdrillnc.org) We'll get you details later, but for now, here's what you need to know.
1. If you live here, take time off July 22, between 3-7 p.m. and participate in the opposing rally and any surrounding protests. We need a large, visual, visceral crowd for news cameras to reflect just how unpopular this decision is so no elected official can lie and say "the people want it."
2. If you own a business here. Consider closing for those hours, so you and your employees can attend. You can even put a note on the door saying, "Closed to fight offshore drilling," to generate awareness and show that even the threat of drilling is an economic burden.
3. If you own a second home/visit/vacation here. Consider taking a trip to stand up for your second home. This decision isn't just about the local population. It stands to ruin the East Coast's favorite destination vacation, first National Seashore and a whole lot of out-of-state homeowners' economic interests.
4. If you live inland, drive out and stand up for our economy. Tourism and fishing on the coast generates hundreds of millions of dollars in tax revenue annually. It also employs tens of thousands of citizens, and in places like the Outer Banks there are with no other jobs to fall back on.
5. Note: there's a chance when BOEM drops the next phase of the plan, they exclude NC. In fact, that's the whole goal — to get us excluded — so before the meeting even happens, get on the phone right now and call your Senators and representatives and tell them to stand up for their constituents and against of Big Oil — which is not a patriotic, philanthropic US entity, but a conglomerate of international corporations with one mission: to access the natural resources off our coastline and sell them to foreign countries. (Find a list of phone numbers and other arguments right here: www.nottheanswernc.org.) If it works, they do exclude N.C. and the East Coast, consider May 14 the best day off you ever took, and go enjoy the resource you helped protect. But if even a fraction of the Atlantic gets included, be prepared to fight. WE WILL NOT GET ANOTHER CHANCE.
Related Events
The North Carolina Coastal Federation, Inc. does not discriminate on the basis of race, color, national origin, sex, age or disability in its programs or activities.