2021 Pelican Awards and Taste of the Coast
August 7
@
5:30 pm
–
8:30 pm

---
The 2021 Pelican Awards
Join the North Carolina Coastal Federation for a fun summer evening celebrating North Carolina's beautiful coast and delicious seafood at the 2021 Pelican Awards and Taste of the Coast!
We'll honor the outstanding contributions to the coast by our 2021 award winners, followed by a reception with North Carolina seafood, live music, and a knockout silent auction featuring the best of the coast.
Gather with friends of the federation to honor our 2021 award winners and their inspiring stories of coastal stewardship.
This casual celebration will take place on Saturday, August 7th, on the banks of Bogue Sound at the Crystal Coast Civic Center in Morehead City.
We are expecting around 375 guests at the event.
NEW This Year
BIG NEWS! Our popular silent auction will be entirely paperless this year! In addition to being better for the environment, this will also allow for faster checkout at the end of the night. You'll be able to place bids easily from your phone at the event, or from bidding stations with the help of volunteers. You'll need to set up you bidding profile with a credit card in advance, and can start bidding once the auction opens on June 28th. Please click here to set up your bidding profile (Click "Get Started") – and be sure to use a good mobile number or email so you can receive updates if you are outbid!
The Silent Auction opens June 28th , with new items added weekly!
Featuring Local North Carolina Oysters:

Once again, local NC oyster growers will provide fresh and delicious oysters from different growing waters along our coast. Sample them all and taste the difference! Check back for updates as more growers confirm in the coming weeks!
Currituck Oyster Company
Oysters Carolina
Roysters NC
White Oak Oyster Company
Be sure to visit our auction to bid on a great package from Carolina Beach Oyster Co to enjoy with family and friends!
COVID Guidance:

We look forward to celebrating with you in person as safely as possible. We encourage all event attendees to follow the guidance from the Centers for Disease Control and Prevention (CDC), the North Carolina Department of Health and Human Services, and the Carteret County Health Department to get vaccinated for COVID-19 and to wear a mask if not fully vaccinated.

Additionally, attendees who are fully vaccinated should wear a mask if they are uncomfortable in large crowds. The federation encourages attendees who wish to wear masks to bring their own masks, and will also provide masks at the door.

Other Measures:
Per Governor Cooper's latest Executive Order and the latest advisory from the CDC, we strongly encourage all attendees to be vaccinated and to consider wearing a mask at the event, regardless of vaccination status. The federation will provide masks at registration for those who do not have their own. Hand sanitizer will also be available.
We are taking steps to maximize spacing at the event by operating at reduced capacity for the Civic Center, taking advantage of the outdoor patio (weather permitting), and eliminating theater-style seating during the awards in favor of round tables.
We urge anyone who has been exposed to COVID-19 or who is showing any symptoms to not attend the event to protect the health of other guests. We will be taking temperatures at the door and anyone with a temperature above the CDC threshold of 100.4 will not be admitted. Ticket refunds are available.If you are not able to attend in person, you can still participate remotely: The awards portion of the event will be viewable in real time on the federation's Facebook page via FacebookLive, and the silent auction is accessible online via phone or computer.
Get Involved
Are you interested in supporting the Pelican Awards? Join us as a sponsor, an oyster grower, or donate to our silent auction! If you're interested in getting involved, please email catherines@nccoast.org for more information or sign up online.
Online Security
Pelican Awards registration (tickets and sponsorships) and the silent auction are handled through a secure platform called Greater Giving. This platform allows you to register, set up a bidding profile, and then easily
participate in paperless bidding at the event. If you set up a bidding profile with a credit card, you can place bids from your phone, receive updates on your items, and enjoy speedy checkout at the end of the auction.

Here are a few facts about Greater Giving:
Greater Giving is a Level 1 vendor—the highest, most secure level of PCI compliance—so you know your data is safe.
Greater Giving complies with the Payment Card Industry (PCI) Data Security Standard, protecting your payment data during and after a transaction. Their technology and processes are reviewed regularly and undergo an annual audit by a PCI- accredited 3rd party to ensure PCI compliance.
You can confirm Greater Giving's PCI compliance status, by referring to the Visa Global Registry of Service Providers here.
Read More: Summary Information on Greater Giving's Security
Read More: Security Information from the Greater Giving Website
---
---
Event Sponsors
---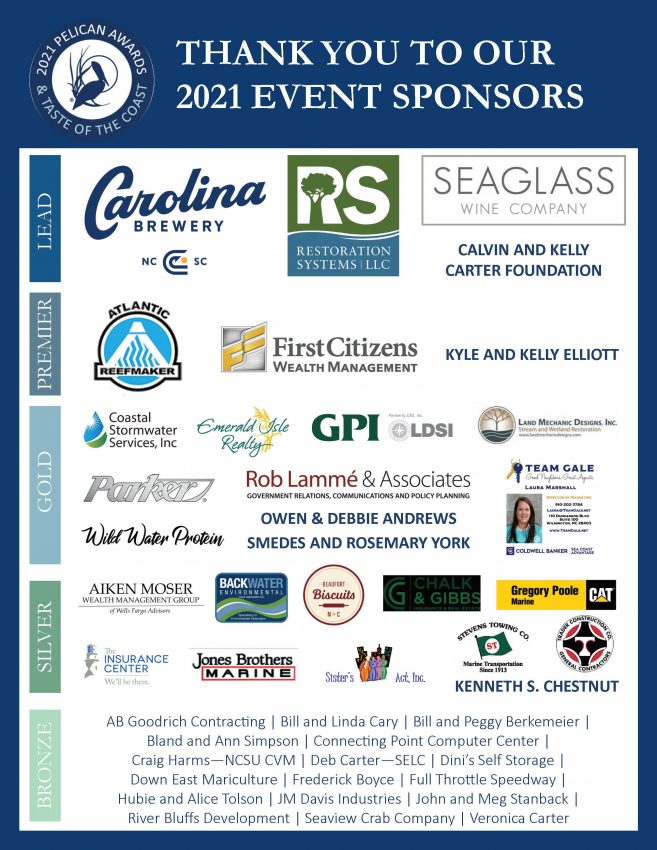 Related Events
The North Carolina Coastal Federation, Inc. does not discriminate on the basis of race, color, national origin, sex, age or disability in its programs or activities.