2020 Pelican Awards and Virtual Coastal Social
August 6, 2020
@
6:00 pm
–
8:00 pm
Are you registered for tonight's event?
You can find the Program and Event Packet by clicking the button below!
If you love the Pelican Awards but can't join the virtual celebration this year, you can still buy raffle tickets, bid on your favorite auction items, and even make a donation toward the event in your absence.
Join the North Carolina Coastal Federation for a fun summer evening celebrating North Carolina's beautiful coast at the 2020 Pelican Awards and Virtual Coastal Social!
We've missed seeing everyone these past few months and look forward to gathering virtually with friends of the federation to honor our 2020 award winners and hear their inspiring stories of coastal stewardship.
This year's celebration will be held virtually on the online video platform Zoom. You don't need an account to participate, and anyone can join (with or without video) to enjoy the camaraderie and heart-warming stories from the coast. We'll start the evening at 6:00 pm with a coastal social featuring music, fun and a special toast to the coast. At 6:30 pm the awards program will begin to honor Pelican Award recipients up and down the coast. All ticket holders will also be entered into a drawing for a virtual door prize- stay tuned for more details!
This casual and fun celebration will take place on Thursday, August 6 via Zoom.
Registration for the virtual event is now closed.
Schedule:
6:00-Virtual Coastal Social
6:30-Pelican Awards
7:30-Coastal Encore
8:00-Auction closes
Auction
Back again this year is the outstanding silent auction featuring the best of the coast, from an afternoon with local oyster growers, to coastal décor, special experience and more. The auction will be completely online this year, and will close at 8:00 pm after the Awards program. Click the Auction button below to browse the latest items and place your bid!
Raffle
You may also be tempted to enter our raffle to win an all-inclusive Oyster Roast package from Oysters Carolina for 25 people at the North Carolina location of your choice. Oysters Carolina offers a selection of several local oysters, pulled from the water the day of your event and expertly steamed on location by the friendly and knowledgable oyster growers themselves. Read more and buy your tickets below! Our lucky raffle winner will be announced after the awards at 7:30, and we will also follow up with the winner. You do not need to participate in the awards to win the oyster roast!
We're here to help!
We know the Pelican Awards are different this year, and we are doing our best to bring these special stories of hope and dedication to you, just in a different format. We hope this will still be a fun opportunity to come together, and we're here to help if you have any problems with Zoom or other aspects of the celebration. In the coming weeks, we'll share detailed instructions here on using Zoom, and will offer support the day of the event for anyone having problems.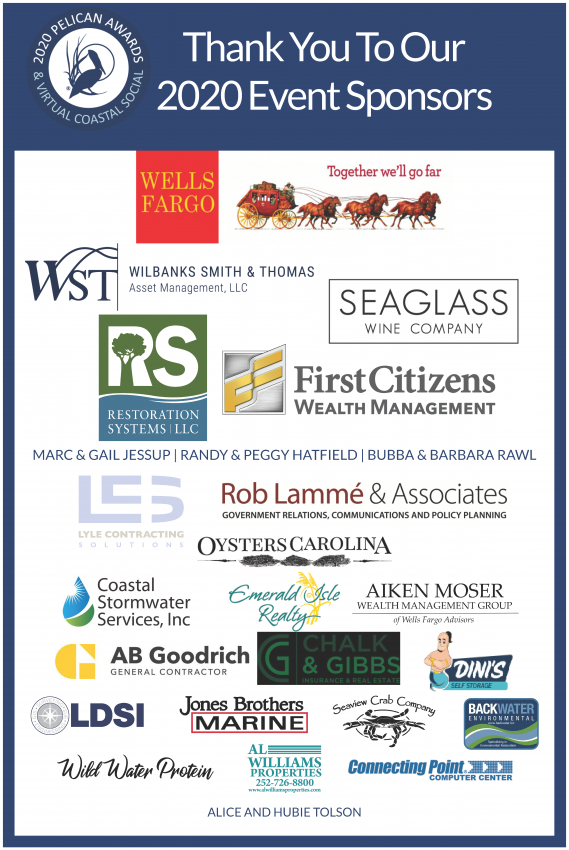 The North Carolina Coastal Federation, Inc. does not discriminate on the basis of race, color, national origin, sex, age or disability in its programs or activities.