Here are just some of the interns who worked for the federation in the past.
2010
Kirby Rootes-Murdy: At the federation, Kirby created GIS maps and datasets to guide the stormwater retrofitting policy for Cedar Point, a small town in Carteret County. He also made recommendations to local planning meetings for stormwater projects throughout coastal North Carolina and researched and analyzed policy strategies for increasing community support in future stormwater projects. Kirby also helped build an oyster reef building with volunteers at Jones Island. After leaving the federation, he lived in Washington and worked as a sustainable markets intern in the Seafood Choices Alliance Program at SeaWeb, a non-profit group focused on strategic communication and partnership building around ocean conservation.
Caroline Rodriguez: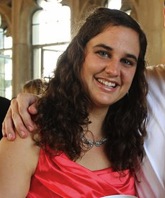 Caroline interned with the federation at its Wilmington office. Her main project involved creating cohesive lesson plans for elementary, middle and high schools for the federation education program. She also created an interactive map on Google Earth that portrayed completed oyster reef restoration projects. She also synthesized research information and performed relevant field work promoting coastal restoration. Caroline was a junior at Duke University pursuing a Bachelor of Science in environmental cience and a minor in Earth and Ocean Science, but I am currently studying abroad in Quito, Ecuador for the fall semester.
2009
Alexis Baldera: Alexis was a coastal restoration science intern with the federation. Her  primary role was to work with staff in the Central Regional Office to plan, organize and participate in community events focused on building oyster sills and planting marsh grasses at Jones Island in the White Oak River. While at the federation, she especially enjoyed working with all of the volunteers at Jones Island on restoration events and spending time on the water. After her internship, Alexis completed her master's project on oyster fisheries management and graduated from Duke University in 2010. After graduation, she worked as a conservation biologist with the Ocean Conservancy in Baton Rouge, La., where she researched and develop restoration plans for its Gulf of Mexico restoration program.
Elise Leduc: Elise was an education intern. Her primary responsibilities included traveling to Cape Lookout twice a week to give free educational talks to visitors about barrier island ecology, organizing and educating volunteers on Jones Island, updating and assembling teaching materials for the new education center on Jones Island. After graduating from Duke University with a master's in environmental management degree, Elise moved back to Massachusetts to take a one-year fellowship in watershed management with the Charles River Watershed Association.
2006
Amy Hammontree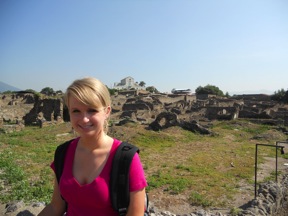 Amy oversaw construction and planting for the second phase of the North River Farms wetland restoration project. She also researched and produced summary reports integrating various state and local agency data regarding water quality threats for shellfish growing areas of North Carolina and helped with projects to stabilize stream banks and build oyster reefs. She studied wetland and stream restoration in the conservation science and biology and Duke Univerity and worked as an environmental scientist in New Jersey after leaving the federation.
2005
Kate Gehret: Kate helped worked on several projects, including preparing an analysis of state stormwater rules applicable to low-density development and participating in stakeholder meetings on behalf of the federation regarding proposed state legislation to create a Beach and Waterway Advisory Council. She also helped build oyster reefs and salt marshes. Since graduated from Duke University Law School and the Nicholas School of the Environment in 2008, Kate worked as a lawyer, specializing in environment and energy resources.
2003
Arthur Fisher: Arthur researched oyster habitat along the N.C. coast using GIS analyses. He also prepared maps of oyster growing areas for the federation's Oyster Action Plan and also compiled demographics data and analyzed coastal development for annual State of the Coast Report. He worked as a GIS analyst after leaving the federation.
Leah Kelly Koch: After leaving the federation, Leah worked as an environmental scientist at Normandeau Associates, Inc., a company that specializes in environmental and public involvement consulting.
2002
Greta Hawkins: At the federation, Greta researched rules and regulations for beach re-nourishment in different states. She also attended several public meetings for a beach re-nourishment project in Pine Knoll Shores and, as part of her master's project, completed a social survey to determine public perception of beach re-nourishment along Bogue Banks. After leaving the federation, she worked as a water resources planner at Kimley-Horn & Associates in Virginia Beach, Va. She helped local municipalities respond to a Chesapeake Bay stormwater plan, new stormwater regulations and permitting requirements.  She also worked for an engineering and consulting company in Charlotte doing watershed studies and planning, wetland delineations and endangered species surveys. Greta also has a license as a professional geologist.
2001
Melanie Gange: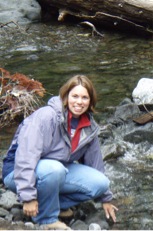 Melanie researched the process to get the White Oak River designated as a federal Wild and Scenic River and worked on the living shorelines project to design application forms for landowners who wanted the federation to participate in designing and funding a living shoreline at their property. Since graduation, she worked as a grants manager for habitat restoration projects for the NOAA Restoration Center at NOAA's headquarters in Silver Spring, Md. Melanie  also authored National Environmental Policy Act documents, responded to requests from Congress and designed web tools to help grantees with project evaluation.
Sarah Hagedorn Bowman: After leaving the federation, Sarah was an environmental consultant and worked as a fishery biologist for the National Marine Fisheries Service, a marine specialist for Science Applications International Corp. and as a scientist for the Environmental Defense Fund.
Kristy Long: Krity researched and drafted articles on environmental enforcement, beach re-nourishment, hurricanes and fisheries for the 2000 State of the Coast Report. After leaving the federation she worked for the National Marine Fisheries Service as the national coordinator for the Marine Mammal Take Reduction Program and also work on sea turtle conservation and recovery, predominantly with respect to reducing sea turtle bycatch.
Rachael Franks Taylor: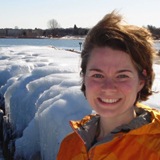 Rachael helped research and write the 2000 State of the Coast Report. She also analyzed emerging policy on stormwater management, smart growth and coastal area plans. After leaving the federation she was the director of Coastal Conservation at The Nature Conservancy, where she work to define and implement coastal conservation strategies in Michigan and across the Great Lakes region.
1997
Cheryl Braunstein: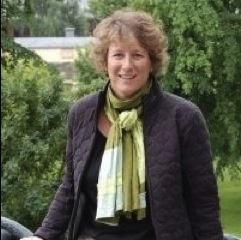 Cheryl helped with the Annual Report at the federation. She graduated from Duke University's Coastal Environmental Management program and did her master's project on community-based habitat management for striped bass in the Roanoke River. After graduation, she worked at the National Zoo in Washington as an exhibit developer and project manager. She oversaw interpretive exhibits, developed exhibit content and wrote exhibit text.
Deb Wojcik: Deb credits her work during the Stanback Internship and with federation in general as being paramount in defining her career path. She helped research and write the State of the Coast Report during the internship and returned to the federation to be an environmental educator. After completing her master's in environmental management and Master of Arts in teaching degrees at Duke University, Deb worked at the N.C. National Estuarine Reserve and as associate director of the Duke Environmental Leadership Program. She earned a Ph.D from the University of Florida. Her dissertation focused on community-based natural resource management and environmental communication in the Okavango Delta of Botswana. She worked as a postdoctoral scholar at Stanford University researching environmental learning in the San Francisco Bay Area.