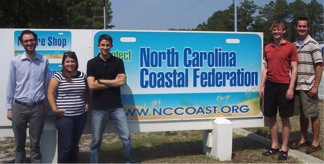 From left to right: Michael McEvilly, Gabriell Vires, Sam Pardo, Tom Mercer, Brandon Morrison
Tom Mercer
A native of Montana, Tom was of master of engineering management student at Duke University. He  joined the federation to learn about fundraising and grant writing, to see an NGO's daily operations firsthand and to get dirty building oyster reefs and planting salt marshes. His major summer project addressed improvements for the federation Web site and integrated marketing through Facebook, RSS and mobile device compatibility.
Brandon Morrison
From helping to write an environmental assessment, to building an oyster sill around Jones Island, to compiling sources for gutter and landscaper database, Brandon worked on a number of projects – big and small – during his time with the federation. His primary project for the summer was to reinvigorate the marketing plan for the federation license plate.
Sam Pardo
Sam came to the federation after his first year at Duke University's Nicholas School of the Environment. An avid east coast surfer, he wasweell aware of the challenges facing coastal communities, especially stormwater impacts. During his time at the federation, Sam I helped revise the Citizen Action Guide, write a draft of an environmental assessment for oyster restoration projects and compile research for the Onslow Bight Conservation Forum. His independent projects were mapping federation conservation properties in the Onslow Bigh and producing several different communication documents — fact sheet, executive summary, Powerpoint presentation — from a journal article that reported on an economic evaluation of two large federation oyster restoration projects at Crab Hole and Clam Shoal.
Gabriell Vires

Gabriell completed a number of projects including creating a booklet outlining an energy summit and writing an environmental assessment for oyster restoration projects that the federation will be conduct with the Army Corps of Engineers. She also worked with fellow interns on Jones Island to build oyster.  She saud she especially enjoyed working with staff on various projects, working with volunteers and spending time on the water. Gabriell was working towards her master's in coastal environmental management from Duke University and a law degree from the University of North Carolina at Chapel Hill.