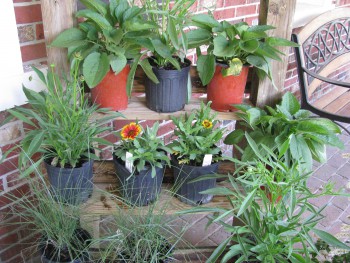 Native plants are again available for purchase at the North Carolina Coastal Federation's headquarters office in Ocean.
Stop by any time between 8:30 a.m. and 5 p.m. Monday through Friday to purchase coastal native plants that will brighten up homes and yards while also providing habitat for birds, butterflies and other animals.
Native plants make for beautiful and low-maintenance landscape, as many are hardy and drought-resistant or wetland tolerant. Prices start at just $3.
Available plants include the highbush blueberry, eastern purple coneflower and American beautyberry, and there is an assortment of flowers, shrubs and grasses available. Plants come with information for the best growing practices and tips for healthy growth. Staff will also be on site to answer any questions about soil type and exposure.
The federation's seasonal plant sale helps encourage the use of native plants. When used in rain gardens, these plants help reduce the amount of stormwater runoff flowing into coastal waterways. Rain gardens are small, shallow, vegetated areas situated lower than the surrounding area. They function like bowls that collect stormwater runoff that will be soaked up by the plants and soil rather than running off into waterways.
The federation also has rain barrels for purchase, which also help reduce stormwater runoff and are great for watering gardens and plants.
For more information on the federation's work to reduce stormwater runoff, check out the federation's Smart Yards publication and/or visit nccoast.org/stormwater.
The office address is 3609 N.C. 24, Newport, North Carolina, between Morehead City and Swansboro. Please call 252-393-8185 with any questions.