By Kristen Daly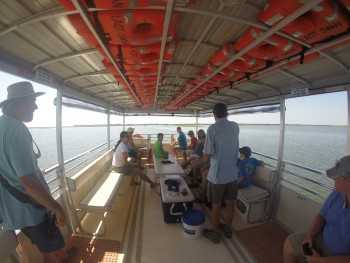 There's no better way to discover the coast than from the bow of boat. At the North Carolina Coastal Federation our summer cruise programs are in full swing and offer a variety of ways for you to experience the scenic N.C. coast. From Manteo to Wrightsville Beach, our expert staff will show you a side of the coast you likely haven't seen and will give you a deeper appreciation for these waterways. All while having fun and perhaps even getting your feet wet! Federation cruises have something for everyone: gorgeous scenery, encounters with wildlife, local anecdotes, and a better understanding of the importance of our coastal waters.
In Manteo, the Boat the Bay cruise explores the significance and stunning beauty of Shallowbag Bay.  You will pull up crab pots, visit restoration sites, and (weather permitting) conduct biological surveys of the bay.  During this cruise you'll investigate why estuaries are referred to as the nurseries of the sea and get hands-on with the creatures that live there.
Those looking to explore the scenic waters of the Central N.C. coast can set sail from Hammocks Beach State Park aboard our Marsh Cruise. You will hear tales of native settlers, past fishing villages and pirates; swing by uninhabited isles, and see the stunning Crystal Coast from whole new vantage point.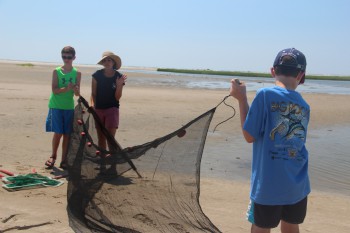 For folks who would rather comb the beaches, our Shelling Cruise is a perfect fit.  A picturesque ride through the estuaries of the Crystal Coast brings travelers to Bear Island where they can spend the morning searching for shells and other treasures along the shore.  Learn to connect the beautiful shells of our coast with the animals that live and grow in them.
In the southeast, you can spend a half-day exploring Rich Inlet.  See the unspoiled Hutaff-Lea barrier island complex and the incredible array of wildlife it supports. Stroll along the shores of an exquisite barrier island and you will soon feel like you're a thousand miles away on a secluded isle. While aboard, you will learn about recent threats to this pristine habitat and the nesting sites that depend on it.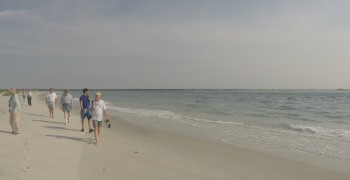 These federation cruises leave a lasting impression and are the ideal way to discover the unique offerings and history of each coastal location.  Participants come away with a fuller and more meaningful understanding of the beautiful North Carolina coast, and all it has to offer. Full of fascinating information and magnificent views, these cruises are not to be missed. Check out our events calendar for a cruise near you.