By Sara J. Hallas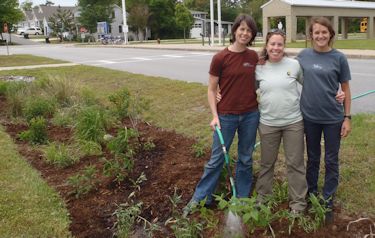 Sara Hallas, center, is flanked by the N.C. Coastal Federation's Erin Fleckenstein, left, and Ladd Bayliss as they stand in a rain garden they just completed at Kitty Hawk Elementary School.
MANTEO — I have had a strong environmental ethic and passion for marine science for as long as I can remember, although my parents still wonder where it came from. When I was a young girl, I was as stubborn as I could be with my eco-friendly behavior and pushed my parents' tolerance to its limit. They were pretty compliant when I picked up trash on our evening walks with our dog. They were a bit less understanding when I refused to accept the giant Styrofoam-to-go boxes when we ate dinner out at local restaurants. They were entirely intolerant when I scolded complete strangers for throwing their cigarette butts on the ground. My parents worked to keep my behavior in check but I am certain they absorbed some of my environmental concern because they usually had to compromise and meet me in the middle.
Maybe I picked up on environmental awareness from my Grandpa and Grandma Hallas. My Grandma would do the cooking, but it was Grandpa that would clean up and wash the dishes. I can recall my grandfather carefully washing the dishes after supper in a dishpan in the sink and frugally saving the leftover dishwater to water the plants outside with afterwards. My Grandma would rinse out and re-use Ziploc baggies and pieces of aluminum foil until they wore thin. Sometimes my Christmas presents from my grandparents were wrapped in the most obscure boxes that I didn't know what to say about the gift, until I realized the box was another recycled relic and did not actually correspond with the gift inside. Up-cycling and water harvesting were not in my grandparents' vocabulary, I am sure they were just trying to be thrifty. Little did they know that they were making a much bigger impact, on me and Mother Earth.
From this influence, I thought I would be resourceful, too, and remember spreading empty five-gallon buckets around the backyard during a rainy day. I wanted to capture and save as much of the rain water that I could and be able to use it later. I thought this seemed obvious and wondered why we didn't save water like this every chance we could, especially when it rains. In my 10-year-old mind, rain water was free water. Why would we just sit back and let it all wash away?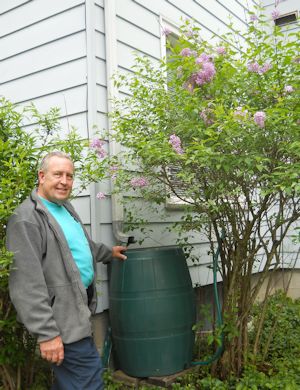 Howard Hallas, Sara's father, is ready to use a rain barrel at his home in Poland, Ohio.
This all happened before I even realized the implications of stormwater runoff and all its negative effects on a watershed. With a bit more education and understanding today, I am even more proud of my younger self for being so bold, though my actions may have seemed silly and pointless at the time. Now that I am working for the N.C. Coastal Federation, an organization that stands firm in front of non-believers, it is more rewarding than words can describe.
I am ecstatic to be able to install cisterns through various work projects at the federation and finally get to capture the rain water I had been desperate to make use of, and fulfill one of my youthful pursuits. In fact, I had these childhood flashbacks recently while I stood watering a rain garden, that I had just helped plant, with water that had been captured in a cistern, for a grant funded project I had been in charge of managing. As I thought about all the pieces that had come together just right in my life's journey from my youth until now, I was smiling from the inside out.
I am also glad to say that standing my ground eventually rubbed off on my parents too. All along my dad was always the one most resistant to any environmental ethic. He was constantly mumbling and grumbling about the latest EPA ruling that would be making his life difficult one way or another. Looking back, I suppose this was some of my earliest environmental education experience. Trying to reason with my dad to think outside of his personal restrictions and see the greater good for years to come. I guess persistence pays off. My dad is now the proud owner of a rain barrel and gets excited about the benefits of using it every summer. During high water levels in the local creek this spring, my dad was pleased to report rescuing several turtles from the road and getting them to safety.
Even more admirable, my parents helped rally the troops and joined forces with the neighbors to ward off a developer from building condos on the vacant lot and woods adjacent to their property. Thankfully the woods I enjoyed exploring as a child are still standing because my Dad took on the role of a volunteer advocate.
When I was working on my marine biology major in Ohio, most people gave me doubtful looks. Now as I get to plant rain gardens, restore estuaries, install cisterns and inspire others to do the same, there's no question that this is where I was meant to be. As of Memorial Day weekend this year, I have been on the Outer Banks for 10 years and I cannot imagine being anywhere else.