By Ana Zivanovic-Nenadovic
OCEAN — It is that time of the year again – we are again enjoying the company and the hard work of our Coastal Advocacy Institute interns. This year, as usual, we have an excellent group of 2014 Interns from all over the country ready and eager to do a lot of great work.
They have already had a busy few weeks. They attended our full staff meeting, followed by the two-day meeting of the N.C. Coastal Resources Commission and ending with the federation's Board of Director's meeting. They also planted several thousand plugs of marsh grass at Jones Island in the White Oak River and pulled weeds from rain gardens. Quite a start!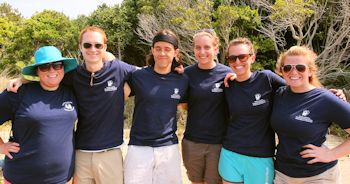 Six of our seven interns, from left: Mariko Polk-Darby, Carl Taylor, Miles Muller, Alyce Kanabrocki, Ashley Green and Leigha Larkins. Not pictured is Allison Hensch.
For the next 11 weeks our interns will get a comprehensive, experiential background on a variety of subjects: coastal restoration, environmental education, coastal policy and advocacy and on the nuts and bolts of a non-profit management, including event and membership management, grant writing and development. They will complete the program on Aug. 2.
By then they should have a good understanding of the theoretical and practical implications of several seminal state and federal regulations and be able to write an excellent public comment letter on a coastal policy issue and critically analyze an environmental impact statement. They will get an insight into the works of public agencies, other non-profits and foundations and experience first hand what it means to make a difference working with such partners.
Of course, we would not be able to achieve any of this without the generous help of our partners. They are the ones who volunteer their time and contribute to the education of our interns. Our partners are many and from many areas of expertise and they participate in our "Speaker Seminar Series" component of the program. We invite policy makers, scientists, our board members, foundation executives, lawyers, community members and many others from the state and the country. This year we give special thanks to Patti Fowler with the N.C. Shellfish and Sanitation section of the state Division of Marine Fisheries; Mike Orbach, Brian Silliman and Bill Kirby-Smith of Duke University; Peter Shelley of the Conservation Law Foundation; Braxton Davis of the N.C. Division of Coastal Management; Hawley Truax of the Z. Smith Reynolds Foundation; Janice Allen of the N.C. Coastal Land Trust; and many others who will spend some time with our interns this summer.
Make sure you visit our program page for summer updates and our interns' work.