Do you remember what it felt like to see the ocean for the first time? Or to ride a ferry and watch dolphins follow waves in the estuary?
If so, this story will sound familiar.
In April, the federation to Bear Island provided third and fourth grade students from Maysville Elementary School with the chance to see our coast in a way most had never seen before, by getting them out on, and in, the water and putting their toes in the sand.
The town of Maysville is located in Jones County, N.C. Although the school is only 30 minutes from the sea, many students had never been there before, and it was the first boat ride for nearly all of them.
The Harold H. Bate Foundation sponsored these students' adventure and enabled us to give the students two hands-on classroom coastal science lessons and one field trip to the water to top it off. Classroom lessons emphasized the effects of stormwater runoff and native plants on water quality and helped reinforce their normal curriculum.
The highlight of this project, however, was definitely the trip to Bear Island.
Upon arriving at Hammocks Beach State Park, where Bear Island is located, students met with Park Ranger Jake Vitak, for a talk on sea turtles. They then hopped aboard a ferry and headed to the island.
On the way, students were beyond excited when the ferry captains pointed out a pod of dolphins surfacing nearby! Their eyes lit up, their mouths dropped open and by the end of the ride, they were grinning as widely as the dolphins.
On the island, students learned about the local habitats and wildlife all around them. They got to see and touch several marsh species, walk through the maritime forest in search of animal evidence, and enjoy a beach scavenger hunt that had them running all over. It was a tired, happy bunch of students (and federation staff!) on the ferry ride back.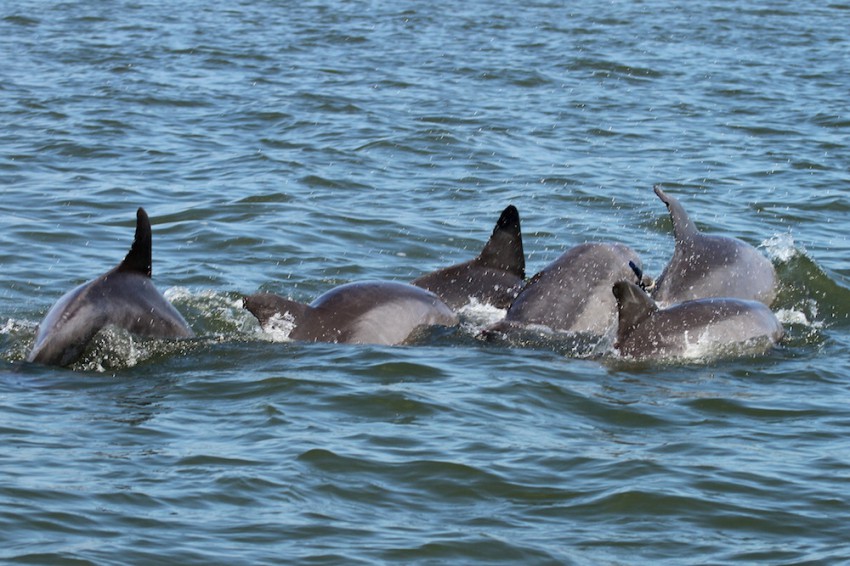 If you would like to help support our education program to provide similar opportunities for students, please become a member or donate today. Thank you!