By Sarah Gilliam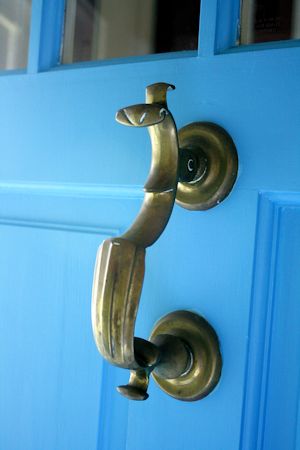 The first time I saw the Palmgren-O'Quinn cottage, I noticed the pretty blue door and sleek, golden handle. There was something fantastic about its color — a bold blue we often see in the summer sky or on a "pretty water" day out on the water.
That was well over a year ago and before the house embarked on its epic journey (watch Moving Day video here) to become the new Coastal Education Center and Southeast Regional office for the federation. Last June, this home took a ride on a barge around an island, which is something not many humans can say they've done, much less a building.
Since June, hundreds of hands have helped renovate this home and a few days ago I noticed the return of the friendly blue door. A small sign that soon the center will be ready to provide a home base for all the hard work that goes into keeping our skies and waters that healthy blue color.
There are still several volunteer work days so it's not too late to help get us ready for our big opening day tentatively set for May 3. Here's info on the up and coming volunteer events: