By Mike Giles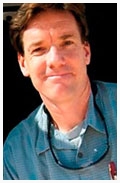 Rob Lamme
WRIGHTSVILLE BEACH – Rob Lamme, the N.C. Coastal Federation's lobbyist, will talk about the N.C. General Assembly and all things political  on Wednesday, July 9, at the federation's Fred and Alice Stanback Coastal Education Center, starting at 7 p.m.
After Lamme's talk, people will be able to ask him and Mike Giles, a federation coastal advocate, questions about the legislature and passed or pending bills.
We are glad to have Rob visit the new education center and share some of his insight on the current political issues that we are facing. It is a great opportunity to hear what is being discussed and debated in Raleigh.
The talk, which is part of the federation's monthly Coastal Speaker Series, is free to federation members and will be $10 for non-members. All proceeds from the event will benefit the federation's educational programming.
People can join the federation and register for the talk online or visit the education center, 309 W. Salisbury St. in Wrightsville Beach.