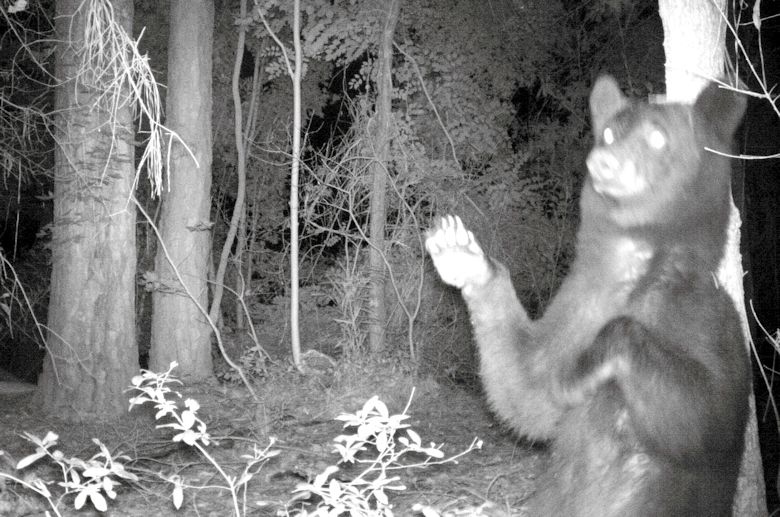 A black bear waves to the camera while scratching its back on a friendly tree. Black bears, along with the bobcats and turkeys also found in this region, need large tracts in which to live. Fragmentation of the river corridor will negatively affect these three species.
By Sarah Gilliam
Ok, this is kind of a trick question because the answer is multiple animals, which were photographed by a series of 'critter cams' along the Northeast Cape Fear River. Earlier this year, the federation, Cape Fear River Watch and the Wildlands Network placed a series of professional trail cameras in this area to collect scientific data on the native wildlife which could be negatively affected by the proposed Titan Cement plant. This foreign-owned company wants to build what could become the largest cement manufacturing facility and limestone mine in a coastal setting.
The ambitious camera project was made possible by a donation from a private foundation.
Check Stop Titan's Facebook page for more photos from this ongoing project.
But here are a few photo highlights of the spectacular wildlife that call this area home.
| | |
| --- | --- |
| A nosy raccoon inspects the camera…Is it on? | A grey fox struts past the camera. This species is uniquely equipped with tree climbing skills, unlike any other fox species in the world. |
| A great blue heron poses for the camera. These birds prefer to forage and roost near freshwater lakes and rivers, brackish marshes, and coastal areas. | A whitetail buck turns to show off his growing antlers, which are covered with a living tissue called velvet. |