By Sarah Gilliam
WILMINGTON — For over five years, people have fought against a proposed cement plant on the basis that low-tech cement manufacturing is not the solution to our economic woes in southeastern North Carolina. Folks who live, work and raise families in the Cape Fear region were dealt a low-blow on Friday, Aug. 30. As many families got ready for the long Labor Day weekend, the N.C. Division of Air Quality, or DAQ, granted Titan Cement a revised air permit that allows the company to emit more pollution into our air.
The approved air permit now allows Titan to emit a whopping 210 tons a year of course particulate matter and 182 tons a year of fine particulate matter. Each of these pollutants has been linked to serious respiratory, cardiac and developmental health issues, especially in children and the elderly.
After reading through the lengthy report from the DAQ hearing officer, I was so profoundly baffled that this state agency sided with Titan (again), despite 98 percent of public comments asking for a denial of Titan's request.
DAQ's mission statement notes that the division "works with the state's citizens to protect and improve outdoor, or ambient, air quality in North Carolina for the health, benefit and economic well-being of all."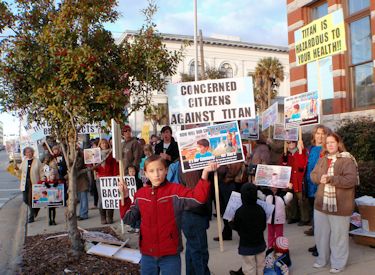 Tucked away in the depths of the report was the hearing officer's recommendation that "the DAQ mission statement probably does need to be modified to reflect the fact that DAQ also works with industry representatives, federal government officials, and other stakeholders, who may or may not be North Carolina citizens."
It is about time our regulators were honest with this community. Just go ahead and admit this public hearing was a waste of taxpayer dollars and benefitted not the citizens but a foreign-owned company. Titan's request was more or less guaranteed when they spent nearly half a million dollars lobbying EPA in 2012 to weaken federal standards for cement kilns, setting the stage for their April 2013 request to DAQ.
The Southern Environmental Law Center in Chapel Hill reported to DAQ that Titan's revised emissions of one type of particulate matter will consume 97 percent of the available 24-hour increment. How is this working "to protect and improve" our air quality? It seems to me that issuing this permit is charting New Hanover County towards a race to the bottom in terms of air quality.
Thankfully the people fighting Titan are resilient and adamant in their quest for a vibrant economy and healthy families. This latest permit is still the very first permit Titan has been granted after five long years. Up next, we anticipate Titan will apply for their wetlands mitigation permit through the Army Corps of Engineers, which can be a two-year process. We know that Titan is required to obtain a special-use permit from the New Hanover County Board of Commissioners in order to operate their plant in Castle Hayne. The big question is will our County Commissioners rubber stamp this project like our state regulators, or listen to the community who put them in office.
The road to justice is long and hard, making victory all the more sweeter. Hang in there Titan fighters. This is not a done deal.