By Sarah Gilliam
WILMINGTON — Clean air is popular in Cape Fear region….Titan not so much.
People power is alive and well in the Cape Fear region.
On Aug. 5, nearly 400 people attended the state Division of Air Quality public hearing to show their support for clean air and a healthy future. For more than five years, families in New Hanover, Pender and Brunswick counties have battled a proposed cement plant, which was granted a permit in 2012 to emit over 12 million pounds of pollution a year into our air. This most recent public hearing was over Titan's request to add even more emissions – to the tune of 32 additional tons of particulate matter a year – to the permitted levels of their air permit.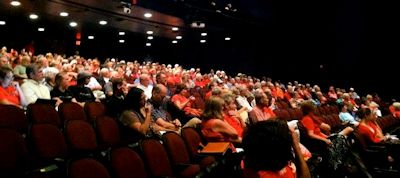 The state's public hearing on Titan air permit drew a pack house.
One local newspaper reported that "of the approximately 70 attendees who spoke at Monday night's hearing, opponents of the permit outnumbered supporters by a roughly 3-1 ratio." Among the speakers, were two physicians, local pediatrician Dr. Eddie Horger and obstetrician Dr. Jessica Cannon.  Both spoke about children and expecting mothers' susceptibility to particulate matter, which are tiny particles linked to increased rates of autism for children during gestation, as well as during their first year of life.
One of the most thrilling moments of the hearing was when Dr. Horger said, "I'll keep speaking until Titan America goes away." A loud applause from the audience of Titan-fighters broke out and it was one of those moments that Titan will never be able to take away from this community effort.
Health concerns were echoed by several parents with young children, including Tracy Kellogg-Brodeur who founded a local group called Mothers United – Advocating for a Healthy Future.
"Children need more protection," she said, speaking up for her two young daughters, Zoey and Fiona.
Her comments also pointed out that children take in more air when they play outside, which puts them at greater risk when air quality is compromised.
A relatively new face to the Stop Titan movement, but by no means shy of public discourse on important community issues, was Deborah Dicks Maxwell, chairwoman of the New Hanover County NAACP chapter. Maxwell is a Wilmington native who focused her comments on the power behind the people involved in the effort to stop Titan.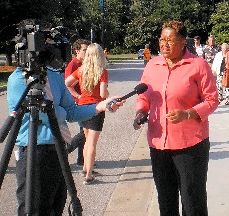 Veronica Carter is interviewed by a local TV station.
"People united will never be defeated and the people have spoken. We need to stop Titan," she said.
Maxwell also called on the Division of Air quality to be an advocate for environmental justice, which the EPA defines as "fair treatment and meaningful involvement of all people regardless of race, color, national origin, or income with respect to the development, implementation, and enforcement of environmental laws, regulations, and policies."
Also speaking up for clean air was Veronica Carter, a retired Army sergeant and former member of the N.C. Coastal Resources Commission. Carter, along with Dr. Cannon, showed up an hour early to take part in the pre-hearing press conference, which showcased a 16-foot tall smokestack and a large petition banner of over 15,000 signatures. Carter, who is also a federation board member, did interviews with local media and delivered strong comments to DAQ, on the relevance of Titan's request to meet federal standards that are currently being challenged by national groups like Earthjustice and the Sierra Club.
This public hearing will not be the last battle in our communities fight for a clean and healthy future. The Division of Air Quality has hundreds of comments to evaluate but it says a decision should be reached by the end of August 2013.