By Frank Tursi
It's been a tough summer for public-school teachers. Not a lot of love came out of Raleigh during a legislative session that will be remembered for its hostility toward many good things, including public schools and the people who teach there.  So Saturday was refreshing.
Sandi Cecelski
"Thanks for giving me this feel-good moment," said Sandi Cecelski. "As you know, we've had few of those this summer."
Sandi is a high-school teacher in New Hanover County, and she was standing on the stage in the auditorium of the Duke Marine Lab near Beaufort, having just accepted a federation Pelican Award. Dana Edgren, an elementary school teacher in Carteret County, had preceded her. Both had received awards for their exemplary dedication to their craft and to the kids in their charge and for their innovative approaches to teaching children about the natural world around them.
We have given out these Pelican Awards for about 10 years now. All kinds of people doing all kinds of extraordinary things have received them. Public-school teachers are always on the list because we, unlike some people we know, respect the work they do.
We know it's not easy helping guide a youngster's future. We know all about the long hours and low pay. We know all about the junk that comes along with the joy of the classroom: dumbed-down standardized tests, endless forms, outdated computer software that freezes up and gobbles hours of work, push-button administrators.  Yet, every school day thousands of teachers all across this state put it all aside and greet their students at classroom doors with a smile and sometimes a hug. Because teaching, in the end, is about the kids.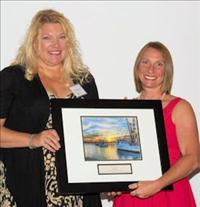 Dana Edgren, left, receives her award from Sarah Phillips of the federation staff.
Most teachers, we suspect, do their jobs well. Some, we know, go far beyond what anyone expects. Walk into Sandi's classroom at Eugene Ashley High School, for instance, and it becomes immediately clear that
she's not your ordinary teacher. Aquariums line the walls and are full of creatures; field boots and gear are stacked in corners. A teacher for 25 years, Sandi stresses the importance of linking the science she teaches in her classroom to what goes on beyond its walls. So she sends her kids out in the marshes and creeks where they experience first-hand the lessons learned.  Sandi is also working with the county to launch a new Marine Science Academy where students will take college-level marine science courses, go on research cruises and complete graduation projects.
What motivates her? Here's what Sandi told the audience Saturday: "My goal is to develop highly trained individuals to fill my mud waders."
Dana Edgren wants them filling flower pots and planting rain gardens. A third-grade teacher at White Oak Elementary School in Cape Carteret, Dana has worked with us to integrate school rain gardens into her teaching curriculum.  Last year, we helped her build a greenhouse on school property where her kids grow native plants for the school's garden. Dana now wants to add solar panels to the greenhouse. She's also rallied other teachers to install composters and rain barrels.
There are no shortages of dedicated public-school teachers like Sandi and Dana. Saturday was our small way of giving good teachers everywhere a public high five. Goodness knows, someone needs to.