Pearl Award in Recognition of of Outstanding Environmental Service
 Fred and Alice Stanback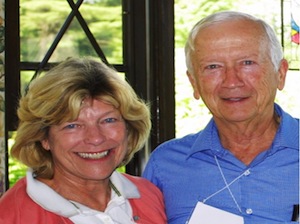 "Carolina in My Mind" is called the unofficial state anthem for North Carolina. We don't know if Fred and Alice Stanback are fans of James Taylor, but we'd like to sing their praise for constantly thinking about our state's natural environment, and working to protect and restore it. The Stanbacks and their family members have had a huge impact throughout our state and nation in protecting our natural heritage, and in building the capacity of dozens of conservation groups to engage in day-to-day environmental protection decisions. In fact, over the years they have become the single most influential force in building the capacity of citizens to watch out for environmental quality in North Carolina, providing financial support that exceeds any other form of environmental philanthropic giving. They also personally lobby for and support the enforcement of good environmental laws, land conservation, and protection. Their environmental passions have spread to every region of our state–all the way from the mountains to the sea.
Perhaps one of their most long term important contributions is their investment in the future human capital we'll need to have good environmental management in decades to come. They support the direct engagement each summer of 100 student interns with more than 40 environmental organizations. The N.C. Coastal Federation benefits by having five of these students, and many of our interns have graduated into amazingly responsible environmental management positions in a few short years after leaving our doors.
Fred and Alice are not the type of people who seek the limelight. At the same time, they are not at all silent about their determination to do right by the world's environment, and Fred constantly distributes emails that contain stimulating articles and discussion about environmental issues we are all struggling to address. Our coast and our state's natural environment is a much better place because of the quiet and firm determination that Fred and Alice have exerted to make it that way. We all thank them for being our state's unofficial "environmental laureates."
Northeast Coast Awards
Education Partner
Pat Armstrong
We were fortunate to be introduced to science teacher Pat Armstrong at Columbia Middle School four years ago. Since then, we have incorporated year-round environmental programming into her eighth grade science class, including the installation of a school rain garden.
Pat took ownership of the rain garden, dedicating personal time to ensure the plantings were successful and developing a maintenance program to keep it growing. She motivated students, devising a program that kept the students involved and the rain garden in top shape. Pairs of students were assigned their own 3×3 meter section of the rain garden to weed and maintain as part of their science project grade. This was rain garden maintenance at its best. Several years later, the rain garden is thriving.
Pat is an active and involved science teacher with whom we have been lucky to partner. Sadly, Pat retired at the end of the school year. Though we won't be working with her at the school, she's already stated that she's looking forward to staying involved as a community volunteer.
Volunteers
Marcia and Jim Lyons
When the federation takes on a new project it's important to identify local champions and project stewards. With only three staff members in the northeast, having dedicated volunteers is vital to a project's success. This was especially the case for the living shoreline at Durant's Point.
Jim and Marcia Lyons, long-time residents of Buxton, are dedicated to protecting the environment and are a strong local voice for the ecologically sensitive areas of Hatteras Island. This dynamic and energetic couple has volunteered for the federation for years; but this past year, their dedication to Durant's Point was exemplary.
Since the site is accessible only by water, Jim donated his boat and transportation services to carry volunteers and supplies. Marcia also attended nearly every volunteer activity and really got her hands dirty, planting thousands of marsh grasses throughout the spring. In addition to volunteering, they also recruited volunteers, bringing along friends and neighbors to share the work.
Jim and Marcia are one of the main reasons Hatteras Harbor is now protected with a living shoreline. They are local champions.
Restoration/Preservation Project
Mattamuskeet Drainage District
The foresight and cooperation of the Mattamuskeet Drainage Association will have sweeping benefits for the health of Pamlico Sound. The 42,500 acre association, currently made up of more than 30 landowners, was intensively ditched and drained in the '60s and '70s to allow forestry and farming operations. Over the past 20 years landowners have worked with Natural Resources Conservation Service (NRCS) to enroll nearly half the association in a permanent conservation easement program, the Wetland Reserve Program. This program restores ditched and drained agricultural lands to wetland conditions. By partnering with the federation through a series of projects, the easements will be further enhanced to improve water quality and reopen closed shellfishing waters in Pamlico Sound.
2011 was a benchmark year. Two landowners within the association enrolled nearly 4,400 acres in this program, bringing the total acres of land enrolled and available for restoration to over 20,000. The federation recognizes this achievement and the cooperation of the farmers to develop a long range restoration and management plan for the land and water. The nexus of the association, NRCS, the federation and other project partners is a shining example of a non-traditional alliance working toward environmental conservation that can serve as a model for future collaborations.
Central Coast Awards
Advocacy
Clean County Coalition
The Clean County Coalition rose up out of nowhere in the summer of 2011. In a few short weeks, it organized thousands of people in opposition to a planned sulfur smelter at the state port in downtown Morehead City. They packed public meetings, passed out petitions, picketed outside the port entrance. They ended up winning one of the biggest environmental victories in recent state history.
The smelter plans had been shrouded in secrecy when the first reports dribbled out in the spring of 2011. The project had received most of its needed state permits when Leigh Johnson, Renee Coles, John Nelson and Neil Littman called some people together at the old train depot in Morehead City. Seated around the table were people representing downtown businesses, the Realtors Association, the local tourism agency and environmental groups. Operating on a shoestring budget, the grassroots organization rallied people against the smelter for the rest of the summer. Hundreds of people attended town board meetings. Thousands attended two public informational meetings that the coalition sponsored. It organized petition drives and public rallies.
It all came to a stunning conclusion when Gov. Beverly Perdue held a press conference in Morehead City to announce that the smelter plans were being scrapped. Though that issue faded, the coalition did not. It intends to remain involved in important local issues.
Volunteers
The Robersons
The Roberson family lives on the White Oak River, directly across from Jones Island, the federation's main restoration and education site in the central region. They can see the island from their porch and often kayak over just to check things out. Paula and Walt and their sons, Ryan and Marcus, have volunteered their time not only as island stewards, but have moved oyster shell bags, planted marsh grass and monitored flora and fauna at the island. Paula and Ryan have spent over 150 hours in the past three years working with staff on and off the island.
The Robersons have always visited the Crystal Coast, but after relocating permanently to Swansboro, they felt strongly about working to protect this special place. Ryan, a senior at Swansboro High School this fall, is working toward volunteering 100 hours this summer to hopefully receive a $1,000 scholarship towards college.
Paula inspires the best in her family and other people, spending much of her spare time doing things for others. Her special pound cake and brownies are always a special treat. But perhaps what we appreciate most is the enthusiasm, joy and laughter that the Robersons bring to every event in which they participate.
Restoration Project
North Carolina History Center at Tryon Palace
It is hard to believe that one of the 'greenest" public buildings in North Carolina was once the site of a polluted shipyard that contained asbestos, PCBs and other toxic chemicals that were contaminating the Neuse River basin. Now the 60,000 square-foot museum site includes permeable surface parking areas, bioretention areas, restored wetlands, and engineered wetlands to filter stormwater runoff. The site also includes a 35,000-gallon cistern located underneath the Center's courtyard that catches runoff from the facility's roof and uses it to irrigate the grounds.
The building itself was constructed with regional and recycled building materials all of which have led to the 2012 achievement of Leadership in Energy and Environmental Design (LEED®) Silver Certification by the U.S. Green Building Council. The facility will use less energy, reduce greenhouse gas emissions, and contribute to a healthier environment for area citizens. Operation and maintenance of the facility and grounds is also energy-efficient.
BJAC Architects, in coordination with Quinn Evans Architects, led the design and construction of the center, including the transformation and revitalization of the waterfront. The federation is proud to host our 30th Anniversary event at such a model facility.
Development Project
East Carolina Community Development Inc.
East Carolina Community Development, Inc. (ECCDI) turned a "green" vision into a "green" reality with the development of Glenstal Apartments in Jacksonville, NC. The 56-unit, affordable apartment complex that was built for residents 55 and older, promotes energy efficiency and incorporates enhanced stormwater management making it the "first of its kind" affordable housing development in eastern North Carolina.
The complex includes a hybrid stormwater management system that features both conventional and low-impact development, or LID, stormwater practices. The LID practices include beautifully landscaped bio retention areas, swales and constructed wetlands. Cisterns collect rainwater from the community building roof that is later used by residents to irrigate their thriving community gardens. All the buildings are certified Energy Star construction.
ECCDI's Vice President for Planning and Development, Mark McCloskey, was introduced to LID in 2006 at a workshop organized by the federation. He met landscape architect Heather Burkert at one of the workshops and later hired her to design Glenstal.
Calling it "aesthetics with a purpose," ECCDI has expressed interest in continuing to implement similar environmentally friendly features at future developments. East Carolina Community Development Inc. (ECCDI) is a private nonprofit 501(c) (3) corporation dedicated to meeting the needs for quality affordable housing in the region.
Business
Second Wind Eco Tours & Yoga Studio
On the heels of a successful career in sales management, April Clark opened Second Wind Eco Tours & Yoga Studio in Swansboro in early 2010. As one might imagine, the name of the business reflects her dream of getting and giving a respite from one's hectic daily lives. But April gives much more.
Her sense of adventure and passion for the environment are evident in every aspect of her business from her website that encourages environmental concern to her personal volunteer commitment. She serves as an engaged member of the Coastal Federation's Central Advisory Committee, sponsoring and assisting with special events, representing the federation at festivals and workshops, and rolling up her sleeves and bagging oyster shells or whatever volunteer tasks might be needed. She initiated the popular kayak and yoga trips to Jones Island, offering the chance for participants to experience and learn about the federation's education and restoration center, while adding funds and new members for the federation.
Through every facet of her business, April promotes compassion, caring and activism. April's "second wind" is a powerful tribute to environmental stewardship.
Southeast Coast Awards
Education Partner
Terry Brinson
Most teachers would hesitate when asked if they would participate in a project that involves lots of construction equipment, digging and extra work. Terry Brinson didn't hesitate at all when the federation and the New Hanover Soil and Water Conservation District asked if her school would like to install a rain garden. After teaching at Alderman since 1994 Terry has been a leader and is willing to work extra hours to offer her students unique learning opportunities.
She saw the rain garden project as a chance to get her students outside to experience and learn about their environment first hand. She also saw the connection between flooding on the school property and the connection to Hewletts Creek. Describing the rain garden, she states "When we have heavy rains, the rain garden does its job to gather the run off, clean it and put it back in the water cycle much cleaner which benefits the environment." Terry has worked with the school administration and her fellow teachers to involve the entire third grade over the past three years in classroom and field activities centered on the rain garden. Her students are well on their way to understanding their connection to their local creeks and their opportunity to be environmental stewards.
Restoration Project
J. Taylor Ryan and the St. James Citizen Scientist Volunteers
The Order of the Honorary St. James Oyster
In 2004 Taylor attended a workshop on oysters at the N.C. Aquarium at Fort Fisher hosted by the federation and North Carolina Sea Grant. He learned about all the ecosystem services provided by oysters and was particularly intrigued with their filtering capacity. As a member of the Town of St. James Stormwater Committee, the idea of using a natural filter like an oyster to help reduce stormwater pollution had a lot of potential. Taylor worked with the members of the stormwater committee to get approval to pursue an oyster reef demonstration and restoration project along the Intracoastal Waterway bordering the town.
Working with the N.C. Division of Marine Fisheries, University of North Carolina Wilmington (UNCW) and the federation, Taylor got the go ahead and design for several oyster reefs to be built. Working with volunteers and the project partners, he organized several volunteer events to make oyster shell bags and construct the reefs. The amount of volunteer and community support from the town for the project is testament to Taylor's enthusiasm and dedication for the project. The project is continuing to grow, and the town now donates a scholarship for interns at UNCW to work on the oyster reefs.
Conservation Media Coverage
Lumina News
At a time when readership and funding for print media is declining, and coverage of important environmental issues have likewise been reduced, the staff and management of Lumina News are the exception. Although the newspaper advertises as "Your Coastal Community Newspaper Since May 2002," Lumina News has grown to include coverage of local, regional and state issues, often covering important environmental stories passed over by the larger print and television media sources. In short, they show up wherever there is potential news in the conservation arena, and they work hard to ensure that they cover a wide range of stories.
The Lumina News staff and leadership are dedicated to research and investigative reporting of what are often very complex environmental issues. They "go the extra mile" to provide comprehensive, objective and consistent coverage of coastal issues, to the benefit of North Carolina's citizens.
Business
Lovey's Café
The Wilmington area is lucky to have residents like Marie Montemurro. Marie moved to our community from New York City and opened Lovey's Natural Foods & Café with her business partner, Karen Stewart, in 2002. For ten years now, Lovey's has offered natural and organic groceries, supplements, and hair and skin care products. Not to mention they have the best salad bar in town.
Marie, and Lovey's Natural Foods & Café, has kept federation staff well fed for years – she is a petition- gathering machine for the Stop Titan effort. During the lunch rush at Lovey's, Marie walks through the crowded tables and booths and encourages people to sign the petition against Titan Cement. Through these daily actions, Marie has collected hundreds of signatures, helping to educate and grow our support-base through her many clients. She has also made her business available for Stop Titan events, posted action alerts, volunteered at events and donated yummy snacks to keep our supporters happy. Marie's (and Lovey's) contributions to this community fight are valuable and we are grateful to be fighting alongside her.
Local Government Action
Pender County
In 2010, the Pender County Commissioners involved multiple community stakeholders to develop and adopt a comprehensive land use plan and a unified development ordinance. Included in the plan and ordinance are several goals and policies to facilitate and encourage the use of low-impact development, or LID, which is a development technique that reduces stormwater runoff by mimicking the natural hydrology of a site.
Recognizing the multiple benefits of LID, Ben Andrea with the Pender County Planning Department wanted to ensure that developers had the information and tools to understand and use this development technique in future projects. So he got to work drafting the Low-Impact Development Incentives Document that was adopted by the Pender County Commissioners in the fall of 2011. Planning staff solicited input from the Business Alliance for a Sound Economy and the federation. Both organizations strongly supported the final product.
The LID document is easy to understand and packed full of useful information. It includes definitions, outlines the economic benefits, illustrates how LID can be used in Pender County and provides valuable resources for developers and citizens alike. Hats off to Pender County for moving LID forward in coastal North Carolina and setting a great example for what coastal communities can do to promote LID.
Statewide
Communications
Dustin Miller and Heidi Messina
UNCW Department of Media Production
Three years after the idea for a documentary was born, our video, Habitats, Heroes & Hallelujah: Stories of hope from the North Carolina Coast, debuted at UNC-Wilmington. Dustin Miller and Heidi Messina are the reason our video made it to the screen. With a fear of heights they climbed a fire tower in the Pocosins, bundled up for cold rides on an open boat and lugged camera equipment across hot, soft beaches. They tolerated our learning curve as we wrote (and rewrote) scripts, struggled to find the best interviews, maps, music and graphics to tell our story. Throughout it all, their professionalism and sense of humor persevered, intent on creating a product that reflected the work of the federation and its volunteers in the very best light.
While our video qualifies as a labor of love, it is also a recognized production, receiving a national Telly Award. We are indebted to Dustin, Heidi and UNCW-TV for their contribution that spreads the word that anyone who has their mind and heart in the right place can make a difference along our beautiful coast.
State Agency Action
The Highway Stormwater Program of the NC DOT Hydraulics Unit
It isn't every day that you hear about environmental organizations collaborating with Departments of Transportation. We try and preserve the land and they try and pave it, right?
That is not always the case. The N.C. Department of Transportation, the federation and multiple partners recently looked into innovative ways to capture, infiltrate and treat polluted stormwater runoff from highways.
In the fall of 2011, staff from the DOT Highway Stormwater Program led by Matt Lauffer, worked with the federation, N.C. Division of Water Quality (DWQ), Brunswick County, Withers & Ravenel, URS Corporation and national LID expert Larry Coffman to organize a two-day workshop for DOT and DWQ engineers. The event brought together experts from North Carolina and other states to explore the potential for using LID techniques in the highway environment and make better use of the right- of-way to treat runoff. The federation received a grant from the North Carolina Clean Water Management Trust Fund to organize the event.
DOT then moved the exercise beyond paper and completed a series of LID retrofit pilot projects along coastal and inland highways to test and showcase LID as a stormwater management approach. It is amazing what great vision and commitment can accomplish.